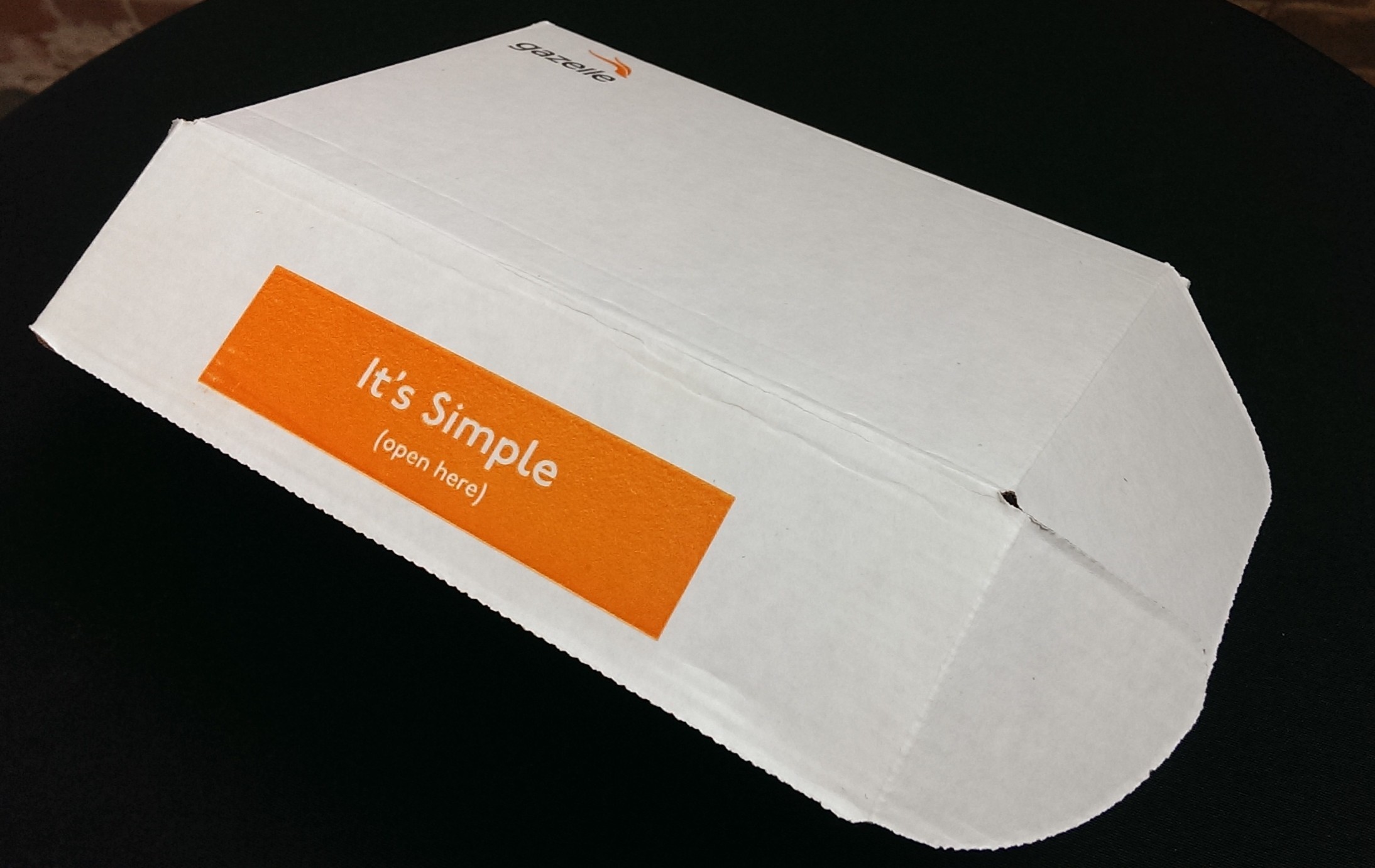 Once you have requested the shipping kit online, Gazelle will go ahead and send your box right to your door. The Gazelle Box is just one of the time- and money-saving benefits Gazelle offers to all our customers. This guide will show you exactly how to pack and ship your iPhone to Gazelle using our provided box, or your own custom box.
Pack and Ship Your iPhone Using Our Gazelle Phone Box:
Open the box, and inside you'll find your Gazelle packing slip and a sticker. The simple instructions are printed right on the inside of the box.
First, pull up at the tab, then unfold the flaps on the right and left to loosen the plastic film.
Place your iPhone underneath the plastic, and fold down the flaps on the right and left to hold it securely in place.
If you're sending a second device or any accessories, like a USB cable, place them in the bottom portion of the box. You should also use something like crumpled newspaper just to keep it from moving around. If you'd rather pack the whole thing yourself, you can always detach this portion of the box along the dotted line.
When you're ready to ship the package to Gazelle, take your prepaid shipping label and apply it over the old label on the outside. Put the packing slip back inside the box with your device.
Use the orange sticker we provided to seal the box.
Drop it off at any standard U.S. Postal Service mailbox or U.S. Post Office, or leave it with your mail for regular pickup.
If you have multiple devices to trade in but choose not to use a Gazelle-branded box, follow the steps below to ensure your devices arrive safe and sound to Gazelle.
Pack and Ship Your iPhone Using Your Own Packaging:
First, gather the appropriate materials:
Cardboard shipping box
Packing materials, like bubble wrap and newspaper
Packing tape
Gazelle shipping label
Your shipping box should comfortably accommodate your iPhone with at least an inch of packing material on all sides. To pack your box, follow these steps:
Fill half the box with packing material (crumpled newspaper works well).
Cover your iPhone in several layers of bubble wrap to protect the screen and casing from impacts.
Place the iPhone in the center of the box and fill the remaining space with crumpled newspaper. The packing material should form a dense buffer between the edge of the box and the edges of the phone.
Close the box and gently shake it to test your work. Ideally, your phone will remain completely immobile.
Tape the top of the box shut and attach your shipping label.
That's it! Once our inspectors receive your iPhone and verify that its condition matches your assessment, we'll send you its Gazelle value in the form of your chosen payment method, and we'll find your old iPhone a new home!
[cf]skyword_tracking_tag[/cf]
Comments
comments