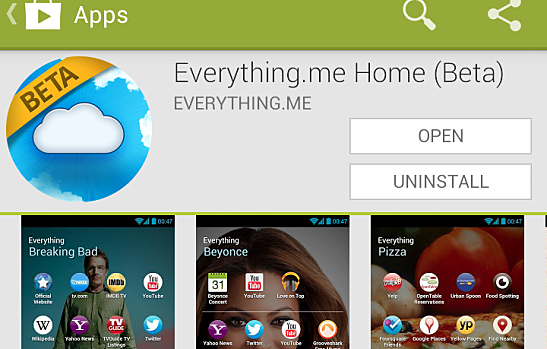 Everything.me, a unique app launcher gaining steam on the Android market, has already garnered 200,000 downloads and is giving Facebook Home a run for its money. The launcher returns personalized results based on queries and comes complete with its own native system of apps for added functionality; some say its throwing down the gauntlet for Google Mobile. As an integrated app, it goes where Google Mobile refused to go before – the operating system itself.
For those unfamiliar to Everything.me, in its own words, the app is a dynamic application that changes according to your interests. The idea may seem simple, but the software is powerful, quick, and picks up where Google Mobile left off. According to Forbes, Ben David, co-founder of Everything.me, says, "It's about the phone adapting to your needs." With this offering, the fledgling company provides a new service based on context that Google cannot provide. David says it's not about keywords but rather searching for the first idea that comes to mind and returning a set of results which relate to the user's query.
Instead of a secondary navigation system, the app inserts itself into every fiber of the operating system, becoming a Siri-on-steroids capable of predicting your every whim; speaking of Apple, according a post on the blog of David's company in which they shared recent download rates, the application discontinued its service for the iPhone in favor of Android's platform, a platform which allowed the app to reach its full, dynamic potential. Everything.me hopes users will turn to this app to declutter and demystify the traditional app drawer in favor of a personalized, intelligent alternative.
Although Everything.me is still in Beta, the app covered significant ground with its downloads, and users are singing its praises in the Google Play app store. As for the competition with Facebook Home, the app doesn't consider itself a competitor, and with good reason, since David, its co-founder, worked on a version of Facebook Home but felt the Apple platform was "too limited."
For now, Everything.me revels in its own originality, presenting a unique spin on the Facebook Home concept. The next step -how to make money – begins with "sponsored Web apps," an approach similar that of Google. Using their extensive, curated app list, they can return sponsored apps which are relevant to the user's query. It is available in Beta on Android's Play Store, and the company plans to release a final version in the coming months.
[cf]skyword_tracking_tag[/cf]
Comments
comments