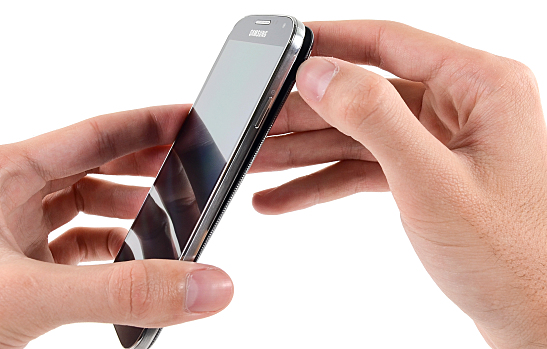 While the Samsung Galaxy S4 is sure to be a huge hit, there's no denying that they are very, very easy to break, like all smartphones. That's why smartphones go hand in hand with cases. Not buying a case for a smartphone is like putting a lollipop in a playpen full of babies and expecting it to be there an hour later. Do yourself a favor and go buy yourself one or two Galaxy S4 cases; if anything they'll keep your phone safe until it's time for the next trade-in. This list below should help you get started.
Functionality: For the Multitasker
Belkin Wallet Folio:
Leather never goes out of style and neither does convenience. This $49.99 case doubles as a wallet, with slots for your most important cards, while still maintaining an attractive look and keeping your phone safe. This case won't protect your phone from falling on the pavement, but it'll definitely keep it from scratching against loose change and sharp corners while saving you pocket-space.
Speck SmartFlex Card Case:
The difference between this Speck and the Belkin? This Speck case will keep your phone safe from a falling anvil while the Belkin case will keep you safe from looking silly. Maybe the anvil is an exaggeration, but you get the gist. This durable case comes with a three-card slot on the back and a convenient thumb release. It will cost you $34.95. Safety or style, you decide.
Durability: Getting Things Done
OtterBox:
From the sleek Reflex Series to the foolproof Defender Series, OtterBox is at the forefront of the phone protection game and is sure to keep your S4 safe from just about anything other than a bulldozer. The price varies from $19.95 to $59.95, depending on the case, which is available in cool-sounding colors like "Surf" and "Vapor."
Tech21 Impactology Impact Mesh:
Starting at $29.99, this is phone armor that doesn't sacrifice looks for protection. The sleek case, which comes in Smokey and Dark Blue, not only keeps your screen crackless and phone-back scratchless but is slim and looks cool enough to belong on Batman's tool belt.
Style: Making a Statement
Case-Mate:
Whether you're looking for Samsung Galaxy S4 cases with glitz-and-glam or suave sophistication, Case-Mate has got you covered. These cases, which come in designs like "Tortoiseshell" and "Brushed Aluminum," cost between $50 and $80 on the main site, but there are specialty cases you can find such as the Case-Mate Genuine Mother of Pearl case that can ring you up for more than $150. As a rule of thumb, the shinier they are the more expensive they are.
iLuv Snoopy Series:
It isn't really an event until it involves a Peanuts throwback. At $34.99, iLuv has made an affordable case for fans of the old-school comic, or just Snoopy in general. The case comes in four graphic styles that all deliver a healthy dose of Peanutty-goodness.
Cases come in all shapes and all sizes, tailor-made for the hard worker and the gallivanter alike. Each case style comes in a ton of different combinations. With just a little perseverance, you'll be sure to find one that fits your lifestyle. Just remember, there are new Samsung Galaxy S4 cases being released every day.
[cf]skyword_tracking_tag[/cf]
Comments
comments