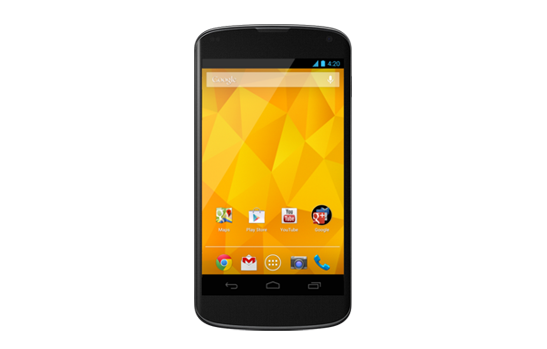 For the LG smartphone market, the Nexus 4 sits at the front of the pack. It moved the company into direct competition with its competitors, Samsung and HTC, and their respective Galaxy S4 and One devices. Its growing success caused many to wonder about a successor and what will arrive next on the shelves labeled "LG." Finally, company officials answered skeptics by releasing information about a coming white Nexus 4 that will be released in select markets, including the United States.
Roger Cheng released this information in an article written for CNet. He also reported that LG recently quashed rumors about an immediate generational followup, a Nexus 5. He said the company has no immediate plans to create a Nexus 5 and that, for the time being, a white model of the current phone will take center stage. Cheng said it will provide the same quality and features as the original model, in a new, fashionable color option.
Nick Summers at The Next Web listed the various features of the white Nexus 4, features that will include a 4.7-inch display that provides a resolution of 1280×768, which is large and detailed enough to make movies rich and text crisp. A quad-core Qualcomm Snapdragon processor powers the phone at a speedy 1.5GHz, users are awarded 2GB of RAM, and internal storage is available in either 8GB or 16GB.
Ironically, the most impressive feature of the new Nexus, Summers pointed out, may be an actual lack of certain capabilities. He says the device runs a version of Android which is completely stock. There is no bloatware pre-installed on the device, which means that developers won't have to contend with unwanted skins, themes, and applications that could get in the way of their efforts. This is also appealing, Summers says, to users who desire a "pure" Android experience, one that is simply unfettered by excess.
Whatever a user's reasoning, this is a prime opportunity to pick up a new Nexus. Cheng mentioned the low price of the original Nexus 4 ($249.99), and if that's any indication of the new model, then the white version could be a steal compared to many other smartphones on the market. A clean installation of Android on top of a capable architecture was enough to propel the original Nexus into fame, and a simple paint job should be enough to place it in a few more pockets.
[cf]skyword_tracking_tag[/cf]
Comments
comments