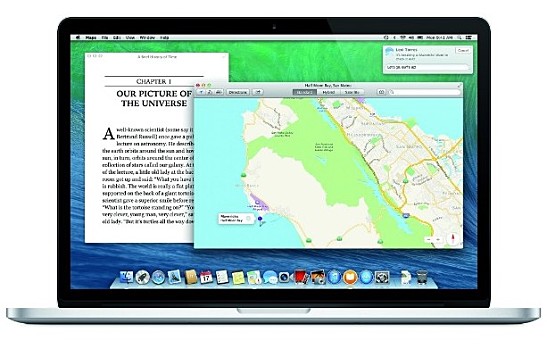 After jokingly calling their 10th operating system "Sea Lion," Craig Federighi, senior vice president at Apple, revealed the new name of their desktop operating system, OS X Mavericks, which starts a new naming traditions based on locations. In a press release, Apple claims there are over "200 new features" in the new operating system.
Apple added an onslaught of nifty features geared toward performance enhancement, productivity, and efficiency. For starters, Finder Tabs consolidates multiple Finder windows into tabs for easier browsing–much like a web browsing experience. In addition, users can now save Tags, which create a category with the corresponding tag in Finder. A powerful example of the feature's use is multiple tags for one file, creating a highly organized platform to find files. Tags are also search-friendly (much like a tag in an app like Evernote).
One important productivity feature is Multiple Displays. Mavericks allows full-screen apps and independent interaction between more than one display. The dock and menu bar is available on multiple displays with simple gestures. Multiple Displays works via AirPlay with Apple TV, for a big-screen experience.
Apple also brought the Maps application to OS X Mavericks. Features such as Flyover and local searches are included, but another feature, Send to iOS, complements their iOS platform. Now, Apple users can plan detailed trips and then send their maps to their iPhone–perfect for vacation planning.
Apple is finally including iBooks in OS X Mavericks. The app, already on iPhone and iPad, is popular for students and bookworms; now, users can take advantage of iBooks on a desktop, with access to over one million titles and titles already purchased through iOS.
Safari also received a few tweaks, including a sidebar with Reading List, which shows saved articles in an endless list, and access to Bookmarks and Shared Links. Shared Links syncs with popular social networks and shows you links your followers are sharing. iCloud Keychain is a new feature that secures passwords, login information, and credit card information. It's also cross platform, so something saved on your iPhone is also available on OS X.
As for performance enhancements, Apple says, "New core technologies in OS X Mavericks improve the energy efficiency and responsiveness of your Mac." For example, Mavericks knows which processes are unimportant, so the operating system groups these processes together to save power. App Nap works similarly to the iPhone's app process and monitors apps that you aren't using, reducing power consumption.
Apple calls OS X Mavericks their "best version yet," and especially for power users and die-hard Mac fans, the updates simplify and add to the Mac experience. Currently, a preview of the operating system is available for developers, and regular users can download the new operating system this fall.
[cf]skyword_tracking_tag[/cf]
Comments
comments