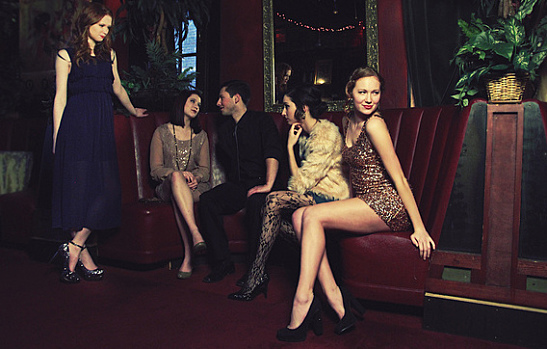 With one of summer's biggest blockbusters, The Great Gatsby, starring Leonardo DiCaprio, Casey Mulligan, and Tobey Maguire, bringing the Roaring '20s back into style, we can rely on technology to bring us back to that party era. From drinks to fashion, these smartphone apps will make you feel more like you are hanging out with Daisy, Nick, and Jay from Fitzgerald's famous novel that the Baz Luhrmann movie is based on.
Party Planner
Before the party begins, it's time to plan the event so you make sure everything goes smoothly. The Party & Event Planner Lite is free, but certain upgrades cost 99 cents. This app has a wide variety of awesome features, including a guest list, expenses calculator, drink amount planner, to-do list, and countdown. This app can help ease the stress of planning a large event alone.
Drink Mixer
Mixology is a 4.5 star drink mixing app that is available for free on iOS and Android. There are specific categories of drinks to choose from, including low calorie, cocktail, and classics. There are also seasonal upgrades, such as summer drink recipes, available for 99 cents. You can also choose to have mixology choose a random drink for you or give you a list of drinks that contain liquors or ingredients you specify.
Another option is Speakeasy cocktails, which is $4.99 in the iTunes app store. This app features drinks from expert Prohibition-era mixologists, which fits right in with The Great Gatsby.
Music Player
Don't worry about hiring a DJ for your next soiree. Smartphone apps have you covered. There are several great music apps to choose from, including Songza and Spotify.
Songza is similar to Pandora, except it has image ads instead of audio ads. This makes it ideal for parties. You can choose playlists by genre or by occasion, such as a cocktail party or a dance party. There are a wide variety of choices, and you can save your favorite playlists as well.
Spotify is a large cloud-based music service that allows you to build playlists by choosing the songs you'd like–without having to pay for them. There is a wide variety of songs to choose from, which makes it easy to build the ideal playlist.
No matter what you need to make your get-togethers the parties everyone wants to be seen at–like Jay Gatsby–these smartphone apps can give you the finesse and know-how you need. And you can focus on more important things, like what hairpiece you'll wear or what you'll drink next–a dirty martini or old-fashioned, perhaps?
It's just too bad there isn't an app to help clean up afterward!
[cf]skyword_tracking_tag[/cf]
Comments
comments