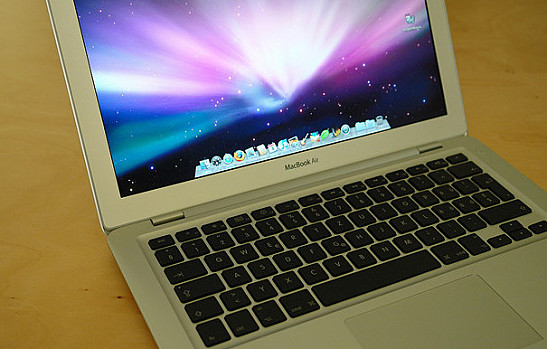 Apple's Macbook Air line, which once seemed inferior to its more powerful Macbook Pro line, now has even more features to sway the undecided. At Apple's Worldwide Developer Convention (WWDC) event, the remarkably thin notebook received an update to its battery, now claiming it can last all day on a full charge. It's also faster; in a press release, Apple said it's now "45 percent faster than the previous generation."
Incremental, but Powerful Improvements
Apple is targeting power users with its new updates. The new battery statistics claim the 11-inch Macbook Air runs for around nine hours, while the 13-inch clocks in at 12 hours. It's not quite "all-day," but it's a significant improvement over the previous generation. Apple reached those numbers with impressive engineering, and, working with Intel's new core architecture and flash memory, keep the form factor consistent with the previous Air. It's apparent, too, that Apple is promoting the 13-inch over the 11-inch notebooks, giving it three hours more of battery life, which is understandable given the fact that many consumers consider the 11-inch too small as a main computer.
As for performance, the 2013 Macbook Airs boast a new type of wireless, faster flash memory, and fourth-generation Intel Core Processors. Compared to the previous 802.11n, Apple's new 802.11ac Wi-Fi is faster, with up to three times the performance of previous models. Apple offers flash memory – which the Air introduced as standard long before it became mainstream – up to 512GB for the 13-inch and 128 GB for the 11-inch. Apple claims their new storage is "up to 45 percent faster" than the previous Macbook Airs and "nine times faster than traditional hard drives."
The power efficiency of the fourth-generartion Intel Core i5 and i7 lends itself to long batter life, and Intel HD Graphics 5000 keeps the gamers happy, with a 40 percent improvement in performance. Now, it seems, the Macbook Air is catching up with its main competitor, the Macbook Pro, in terms of specifications and performance. Although the Macbook Air still doesn't compare in terms of sheer power, the small updates announced at WWDC improves the Air's standing among Apple's product lines.
As a device which started a whole category of notebook–UltraBooks–Apple is taking care not mess up a good thing; in the case, the Macbook Air sells well and fills their entry level slot, previously filled by the venerable, polycarbonate MacBooks. Though the design remains unchanged, additions such as longer battery life and performance enhancements will appeal to buyers who initially believed the Macbook Air inferior to other UltraBooks and Apple's Macbook Pro line–not to mention, they're now less expensive, starting at $1,099 for the 13-inch.
[cf]skyword_tracking_tag[/cf]
Comments
comments