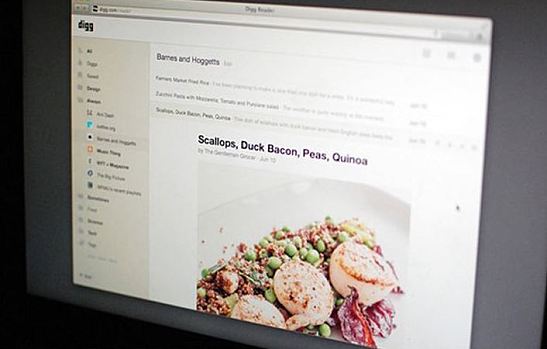 Digg announced on their blog three months ago that they were going to build an RSS reader that would be an alternative to Google Reader, which is shutting down permanently on July 1. Many people loved Google Reader because of its simple and easy-to-use layout. Even though there are other RSS readers available today that can serve as a replacement to Google Reader (like Bloglovin' and Feedly, which both have app versions of their readers), many users are excited for the Digg reader, as it promises to uphold the things that Google did so well, like a simple layout and easy navigation. Digg also promised that their reader would be able to automatically import a user's saved blogs from their Google Reader account before it shut down.
Digg has recently announced on their blog that their reader is slowly rolling out to users and should be available to everyone on June 26. This will give users enough time to transfer their blogs from Google Reader to Digg Reader before July 1, the official cutoff by Google.
The Next Web is also reporting that Digg Reader will be available on an iPhone app. But instead of a standalone app, the existing Digg app will be updated to include the reader. This is also expected to be available on June 26, along with the Web version.
Digg has also stated upfront that this product is a "freemium" service, which typically means that it is free to use, but certain features may incur an additional cost or there may be advertising on the free version. Since many free services already have ads, sponsored content, or available upgrades, this shouldn't come as a surprise to most users.
Additionally, according to the latest Digg blog post, for the first sixty days after the full launch, the five-person Digg development team will be focusing on:
The Digg RSS Reader Android app
Speed
Integration with additional third-party services (like Buffer, Evernote, and IFTTT)
Better tools to sort, filter, and rank lists and feeds
Responding to user feedback
The Digg team used an initial user base of approximately 18,000 to get feedback on what they wanted in a RSS reader before fully beginning their project. Once Digg Reader is announced, we will be able to see if it is a viable competitor to the basic layout and design of the beloved Google Reader.
[cf]skyword_tracking_tag[/cf]
Comments
comments