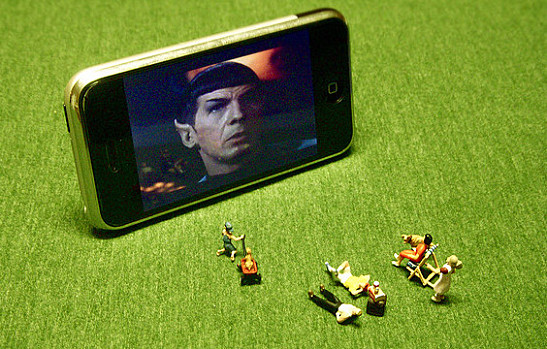 We live in a mobile world, and there is a greater demand than ever for being able to stream content while on the go. Streaming content is perfect for when there isn't a TV available or you don't have access to other sources of content. Here are a few of the best places to access content on your iPhone.
Netflix
Netflix is one of the most popular online streaming content services, and also very affordable — it is currently priced at $7.99 per month. Netflix has the complete seasons of many television shows, including LOST and Sons of Anarchy. There is also a large selection of movies available. Netflix also monitors your viewing patterns and suggests other titles you may like.
Hulu
Hulu is another popular streaming content service similar to Netflix, but it concentrates more on providing current TV episodes that have aired in the past few weeks from channels like FOX and ABC. They have a free version with advertisements or Hulu Plus, which is $7.99 per month and has "limited advertising."
Free Channel Apps
There are several free apps available for online streaming from major television networks, including NBC, ABC, A&E, and more. These apps show commercials during broadcasts and also offer show information and show times. Usually, the shows are available for viewing a few days after they are originally broadcast on the channel itself.
iTunes
You can purchase individual episodes or entire seasons of television shows as well as movies on iTunes for viewing on your computer, iPhone, or other iDevices (such as the iPad and AppleTV). While this isn't online streaming since you are downloading the content after purchasing it, it is a good option when you are traveling and won't have data or internet access. This may also be a good option if you don't want to sign up for a monthly service or watch advertisements.
Crackle
Crackle is a free television and movie streaming content service that focuses on entertainment men would like: action, sci-fi, crime, comedy, and horror (though many females love these genres too). Crackle has TV series — like Seinfeld and The Shield — as well as original programming. You can add shows and movies to a watchlist to keep track of what you want to watch on Crackle's iPhone app.
Whether you are looking for a free streaming content option, like Crackle, or don't mind paying for more content, like you would with Netflix, there are several ways to take your favorite TV shows and movies on the go. While these services can't prevent you from experiencing a cramped flight or a long commute, they may make the experience a lot less painful.
[cf]skyword_tracking_tag[/cf]
Comments
comments