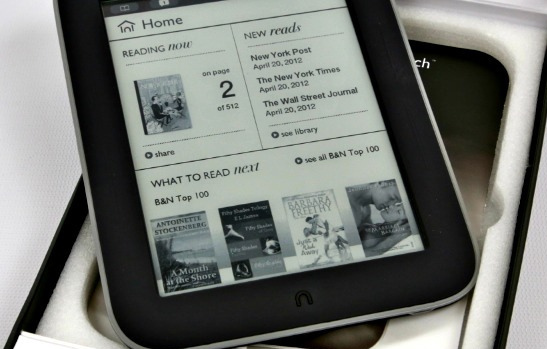 The heart and soul of the Nook brand of e-reader has always been the connection between readers and books. The original Nook aimed to give readers a new tool to experience books and definitely delivered on that measure in spades. Sure, the interface was simplistic, and you couldn't really do anything aside from read on the Nook. But these were simpler times before every device had to run Angry Birds.
However, fast forward a few years to the time when Amazon took its Kindle into the tablet computing sphere, and the Nook finds itself playing catch up. Though the Nook Color and Nook Color HD offer a true tablet computing experience, the Nook Simple Touch has remained true to the form and function of the original Nook and gives eager readers a simple experience focused only on the books. But now, that's about to change.
According to Engadget, a document has been leaked that reveals the details on the next firmware update e-reader. Though firmware updates may not sound all that exciting, this one includes news of new standard applications that allow users to browse the Internet and read email, all from their Nook Simple Touch. It is currently unknown how far these features will go (Will the browser be fully featured or only allow users to view a "pared-down" version of the Web? Will the email client allow users to import more than one email address? All important questions!), but this move is certainly interesting, especially given that the Nook Simple Touch is one of the simple e-readers on the market.
The leaked memo gives June 1 as the date that this update should roll out to devices. Of course, that can change, and these new features could just be speculation. But considering that the Nook Simple Touch interface runs a stripped-down version of Android 2.1, some Web browsing and email reading is possible. But considering the Nook Simple Touch has a very slow refresh rate (how fast do you really need to turn pages?), it's hard to imagine that any extra application released for this e-reader could compete with the feature set of its full tablet big-bretheren.
Of course, the bigger question is, should a tablet with "simple" in the name really offer these advanced features? It seems a little odd, considering the market for the Nook Simple Touch is probably only interested in reading, but perhaps these extra features will put it ahead of the Kindle Paperwhite (which is now that much closer to being the last "true" mass market e-reader on the market).
[cf]skyword_tracking_tag[/cf]
Comments
comments