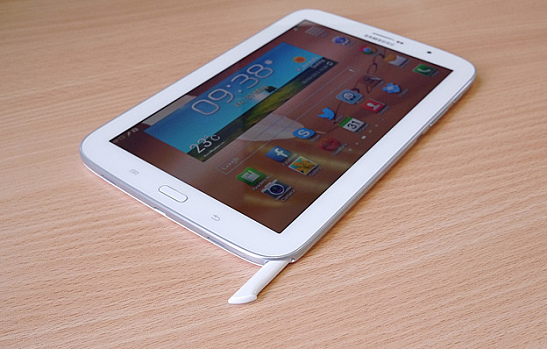 The Samsung Galaxy Note 8.0 tablet will soon be available at AT&T, the telecommunications giant announced recently. In press release on its website, AT&T said that the Note will be in stores "in the coming weeks."
The Galaxy Note 8.0 will run on the AT&T LTE 4G network, as well as wireless when available. It has an 8-inch screen and runs on Android Jelly Bean 4.1. As far as storage goes, it runs on 2GB RAM of memory and has either 16 or 32GB of storage space. The device also has a microSD slot to expand the memory up to 64GB. It weighs about 12 ounces. You can also run multiple applications at once (which includes splitting the screen, which is available on all Android devices that are running Jelly Bean 4.1) and use the S-Pen, which is an included stylus, to take notes, maneuver around applications, and more. There is also the ability to watch video at 1080p and to record video in 720p HD.
Tablets have continued to grow in popularity in the recent years as many people turn to them for both business and personal use. According to AT&T's cited source Strategy Analytics, "tablet sales in the United States will rise from 49.8 million in 2012 to 103.7 million in 2017."
The 8-inch tablet has been popular with users as it can more easily fit in purses and bags and may be easier to handle with one hand than a more standard 10-inch tablet (like the full-size iPad). Other competitors to the Samsung Galaxy Note 8.0 include the Amazon Kindle Fire and the Apple iPad Mini. These smaller tablets are not only able to fit into backpacks, purses, and other bags more easily, they also offer the tablet experience a more reasonable cost. This is great news for tablet users who can't afford an iPad, Windows Surface tablet PC, or a full-size Samsung Galaxy tablet.
Just like any other Android tablet, there are a variety of apps available on Google Play for the Galaxy Note, including Netflix, Facebook, Google Drive, and more. Additionally, many users are replacing their existing e-readers with these smaller tablets to get more flexibility and usage options. If you are looking for a new tablet on the AT&T network, this tablet might be a great fit. Samsung has had steady positive reviews for its tablets and the Note 8.0 will only add to the variety of Apple and Android tablets that are already available at AT&T.
[cf]skyword_tracking_tag[/cf]
Comments
comments