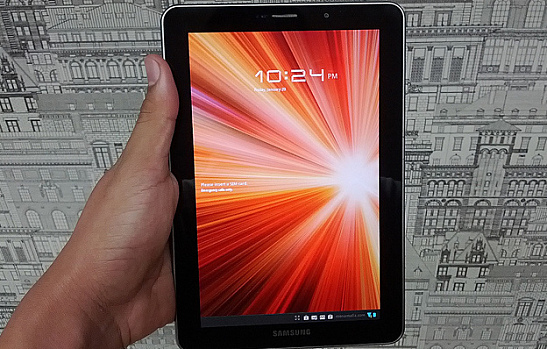 We've known about the third iteration of the Samsung Galaxy Tab family of tablets for a while now, but Samsung recently took the veil off of its complete launch plans, including release dates and prices for its new tablets.
The flagship model, the Samsung Galaxy Tab 3 10.1 will cost $399. For those who need a refresher, this top-of-the-line model sports an Intel Z2560 processor (1.6GHz dual-core) and a TFT HD screen. It also has a 720p-capable rear-facing 5-megapixel camera and 16GB of onboard storage. Like previous Galaxy Tab models, you will be able to upgrade the onboard space with a Micro SD card.
The second tier model is the Galaxy Tab 3 8.0 and will cost $299. This model will sport the more modest Exynos 1.5GHz dual-core processor, but will still feature the HD camera and 16GB of onboard storage like the flagship model.
Finally, Samsung's budget-conscious Galaxy Tab 3 7 will cost a wallet-friendly $199, but will only have a dual-core 1.2GHz processor and 8GB of onboard storage. This version of the Galaxy Tab 3 will also be the only one with Android 4.1 (the other two will have 4.2 from the outset) and will have a low-resolution screen.
All three of these models will be cellular-only as Samsung has not partnered with any cell providers for 4G service. All three will be released July 7, according to Engadget.
This launch is a huge moment for Samsung, as it will mark the first time it will bring three tablets to market concurrently. A midsize version of the Galaxy Tab tablet wasn't exactly demanded by the market, but it will be an interesting litmus test for other companies (we're looking at you, Apple) that might expand current tablet offerings beyond the now-standard 10.1- and 7-inch sizes.
The launch of the Samsung Galaxy Tab family will also test how far down the features spectrum a "budget" tablet can go. Many consumers have gotten used to high-resolution screens, and it is interesting that Samsung is going to release a tablet at the $199 price point that features a dismal 1,024×600-pixel resolution, especially when competitors like the Kindle Fire HD and the Google Nexus 7 feature higher resolution at the same price point.
Pre-orders for the Samsung Galaxy Tab have already begun at both brick-and-mortar stores as well as online vendors. Though the hype surrounding these tablets may not be as palpable as that surrounding the recently upgraded Galaxy S smartphone line, it is clear that Samsung is trying to cater to both the tech enthusiast and the budget-minded consumer with the Galaxy Tab 3. Only time will tell if this varied approach will pay off, but it's clear that Samsung is casting a wide net. Depending on which models are the best-sellers, it may take a more focused approach to the next generation.
[cf]skyword_tracking_tag[/cf]
Comments
comments