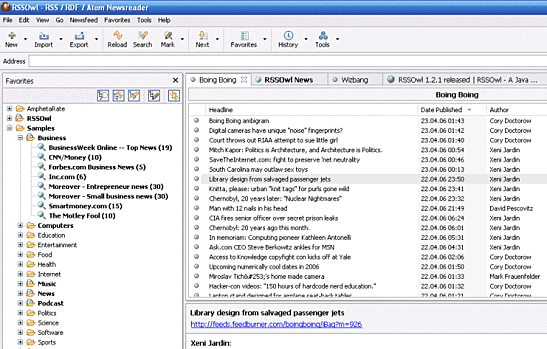 For many loyal users of Google Reader, the accomplished web feed aggregator, the first day of July will be a sad one. This is the day scheduled for the famed online service to close shop. And although many users are debating about how their lives will change, come the first of the month, there is hope seen in the abilities of other readers, those which will attempt to pick up where Google left off.
In an article written for CIO, Kristin Burnham discusses the aspects of 15 alternative readers. From web-based feeds to desktop programs and mobile apps, there is something for everyone in the aftermath.

Transitioning OPML Functionality
The first reader Burnham lists is Bloglines. This web-based application makes it easy for anyone to switch over from their current reader by accepting OPML files, which list information about the various web feeds to which a user has subscribed. Once a user exports his OPML file from his current service, such as Google Reader, he can transfer directly to Bloglines. Curata reader offers similar OPML functionality, and users can expect this web-based reader to offer article flagging and basic sorting.

Flip-Style and Visually Rich Readers
Eldon Reader is available for Android and is accessible through the web. It displays RSS feeds in the style of a flipbook. The creators describe it as "the closest thing to the perfect magazine." Feedly, available for iOS, Android, and the web also reaches for a more visual interpretation of feeds. Rather than a simple list, it can sort websites into categories like "Today," for the most recent sites, or "World News" and "Tech" for specific genres. Flipboard, in a similar fashion to Eldon Reader, turns RSS feeds into a digital magazine. It can display entire articles, including pictures, and saves tagged stories into personalized categories.

Back to Basics
G2reader, on the other hand, gets back to basics with its design. It displays a simple list of web pages, and it allows users to sort the list by date or by articles which are unread. NewsBlur attempts to predict which articles a user will enjoy most. This reader, in a special "Focus" mode, will bring chosen articles to the top of the page. Pulse, which has apps for various mobile devices, extends the visual ability of readers by displaying articles in a tiled layout that includes pictures. Like NewsBlur, it can also surface articles it believes the user will enjoy.

Rolio also lists articles in a basic fashion, with small thumbnail pictures and brief descriptions. This reader takes advantage of social media by providing users with the ability to view and share via Facebook and Twitter. It's currently available on the web, it has an iOS app, and it's coming soon to Android and Windows Phone 7.

Speaking of basic layouts, RSS Owl takes a page from Google Reader by replicating its simple design, with a tiled listing of subscriptions in a left-hand panel, and subsequent articles from each subscription displayed in a right-hand panel. This is one of the few readers listed here that is not web-based, and it is available across multiple platforms. Rssque, another online reader, is the simplest of them all. It has a menu of subscriptions and a listing of articles for each subscription. Articles can be sorted by date. Skimr takes simplicity seriously, as well, and displays each day's top headlines without the encumbrance of images.

A Familiar Feel
On the other hand, Spundge allows users to sort their RSS subscriptions into self-described "notebooks." It provides a highly visual interface that can be integrated with several social media sites. The Old Reader, like others, tries to replicate the look of Google Reader, and users can log in with a Facebook or Google account. Finally, Tiny Tiny RSS is an open source web-based solution that emulates the look of Google Reader and supports mobile users, multiple filtering methods, and podcasts.

Truly, for all the hoopla surrounding the death of Google Reader, it's not as if users will find themselves with a lack of options. Whether a desktop software or mobile web application is desired, there is clearly ample room to explore.
[cf]skyword_tracking_tag[/cf]
Comments
comments