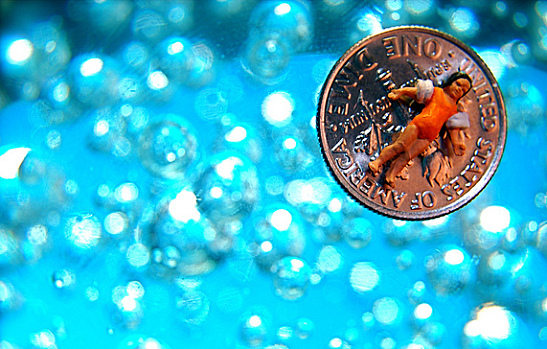 In-app purchases can be an easy way to increase the size of a cell phone bill. However, the purchasing patterns of those who aren't paying the bill is what's raising concern. The Telegraph reports that the Office of Fair Trading (OFT) in the United Kingdom has recently begun to receive an increase in complaints about just how easy it is for their children to make purchases inside the applications they are using on iPads and smartphones in their household.
The parents are mostly upset about the "aggressive tactics" that developers use in their applications to earn money from apps that are initially free to download. According to the article about the issue on The Telegraph, here are some of the issues that parents have reported to the OFT:
A five-year-old boy racked up approximately $2,668 via an app that was free for download on his family's iPad.
Another boy asked his father for a password to play the "Zombies vs. Ninja" game. While playing, he bought several add-ons without re-entering the password in a 15-minute period (the default setting for apps).
An eight-year-old boy bought about $1,569 of virtual doughnuts in the app "Tapped Out," which is a game based on The Simpsons animated TV series.
Response by the OFT
Because of these recent complaints, the OFT will be investigating complaints to see whether or not the developers have built in " 'direct exhortations' to children — a strong encouragement to make a purchase — which would be illegal under consumer protection legislation [in the United Kingdom]. A breach carries a maximum £5,000 (approximately $7,856 in US dollars) fine or two years' prison."
Advertising to children has also been controversial in the United States and other countries around the world. It was made illegal in Sweden in 1991 to show advertising during children's programming, and the Federal Trade Commission (FTC) has long battled advertisers and product developers who want to market directly to children.
Turning Off In-App Purchases
Thankfully, it is possible to turn off in-app purchases on iOS (Apple) devices.
You can restrict your kids from making in-app purchases by turning on iPhone parental controls and disabling the in-app purchase feature. Here's how, according to About.com:
Go to Settings
Select General
Select "Enable Restrictions"
Create a four-digit number that only you know. This will stop your children from disabling restrictions you are going to set. Make sure the number is easy to remember.
Next, go to "Allowed Content" on the "Restrictions" page.
Slide the "In-app Purchases" button to "OFF".
You can also change the require password entry options from "15 Minutes" to "Immediately". This makes sure that every purchase attempt made in an app requires password entry. (This could have prevented the second scenario mentioned above.)
Whether or not the OFT will find fault in the developers who created the apps children like to play, it is up to parents to make sure their children aren't able to make purchases on their smartphone or tablet while using them.
[cf]skyword_tracking_tag[/cf]
Comments
comments