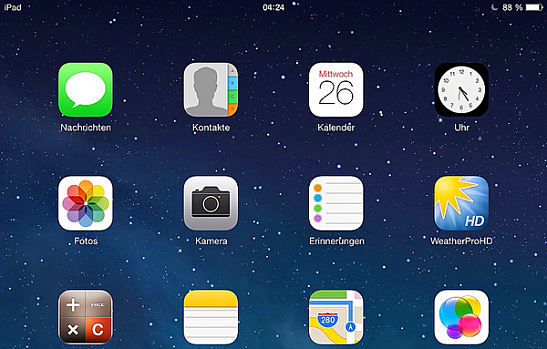 Only a few weeks after the announcement of iOS 7, Apple released iOS 7 beta 2 to developers on June 24. For developers, the new beta provides support for the iPad, Siri improvements, and adds a revitalized Voice Memos app. Now, developers can begin developing applications around the new platform.
The first beta and SDK was immediately available to iOS developers on June 10. The purpose of the beta versions Apple releases to developers is to squash bugs and improve the system in time for a general release to the public–purportedly set for this fall. In iOS 7 beta 2, Apple stabilized a few of the bugs present in the initial release, added some performance enhancements, and introduced new features for many of the programs.
For example, beta 2 included a faster Siri and added English male and female voices to its options. Apple tweaked the original Siri's voice and demoed its new iteration at their World Wide Developer Conference, showing a more natural personal assistant.
A few of the apps in the original beta were redesigned slightly for beta 2. Among them: Reminders comes with a list view and access to scheduled reminders via a clock icon in the top-right corner, and the Control Center comes with a new, light clock icon. The Messages app now produces a swipe-up animation when sending a message, and dragging your finger to the left reveals time stamps, which now show the time every message was sent. As for the camera application, Apple added HDR photos for better photos, so developers can experiment with the redesigned camera in a new way.
Most importantly, though, iOS 7 beta 2 comes with iPad support–a first for developers since iOS 7 was announced. Available on both the iPad and iPad Mini, the new beta takes advantage of the larger displays, presenting iOS 7 in a new way. Design-wise iOS 7 beta 2 is similar on the iPhone and iPad, though the icons are larger and more prominent on the tablet. Though not much is different between the iPad and iPhone, those developers who create applications for the iPad and iPad Mini can experiment with the new user interface and begin designing for it. Currently, the new beta is unusable for the public, but design and performance features will improve over time. Lagging transitions, poor battery life, and inconsistent design elements will be weeded out before the public release. With Apple releasing new beta so quickly, a prompt release in the fall is expected.
[cf]skyword_tracking_tag[/cf]
Comments
comments