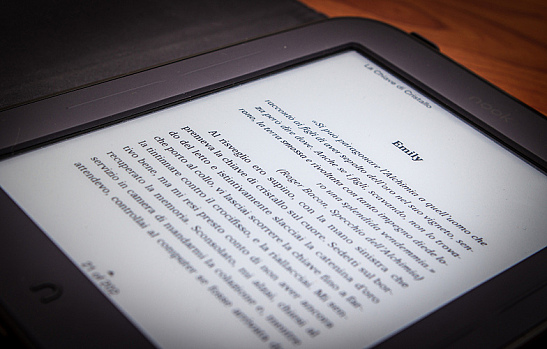 After facing a profit loss of 7.4% when compared to the same quarter last year, Barnes & Noble is making some changes in the manufacturing of their tablets, according to BusinessWire.
The bookseller giant announced that while they will continue manufacturing their Simple Touch™ and Glowlight™ tablets in-house, their color Nook tablet models will be built by a third-party manufacturer through a partnership deal. This manufacturer has yet to be named.
While overall profits were down under 10%, the overall sales of Nook tablets were more detrimental. CNNMoney reports that Nook sales dropped 34% in the fiscal fourth quarter for Barnes & Noble, which is what prompted them to begin looking at other alternatives for their tablets.
As far as the identity of Barnes & Noble's new tablet partner, they have only stated that an announcement on their upcoming device strategy will be made in the coming months. According to the same article, "[this] news comes on the heels of an industry rumor that Microsoft (MSFT, Fortune 500) is considering the purchase of the Nook brand. The software giant already invested in the Nook business, taking a 17.6% stake in April 2012."
Microsoft, which is attempting to grow its stake in the tablet market with its line of Surface tablets that run Windows 8, would be a good fit for the Nook partnership, especially because they are already invested and are functional enough to take over production of the color Nook tablets.
If Microsoft does take on the design and manufacturing of the Nook tablet, there is a lot of speculation over how the tablets will change. Because Microsoft tablets run Windows 8, many technology experts wonder if the Nook tablets will be required to do the same.
Even though Barnes & Noble decreased their spending on the tablet line by over $26 million, they blame manufacturing costs of the Nook HD color tablet, digital sales, and the fact that popular trilogies like The Hunger Games and Fifty Shades of Grey were providing growing sales at this same time last year; there currently isn't a best-selling series that is as popular, so sales are suffering.
While many in the tech industry may question Barnes & Noble's decision to switch their tablet manufacturing strategy to a partnership arrangement, the company remains firm in their commitment to Nook customers. They announced with their fiscal report and tablet announcement that Nook customer service will still remain in stores and that they are still involved in the tablet market.
[cf]skyword_tracking_tag[/cf]
Comments
comments