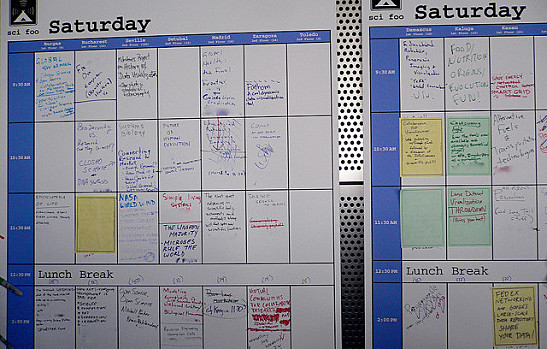 The field of time management and productivity apps is continuing to get more competitive, as apps are striving to further connect a user's digital life (which includes their calendar, email, and other data) in ways that make their daily schedule a lot easier.
Donna Released in the iTunes App Store
GigaOM announced that the latest in personal assistant apps, Donna, has now been made live in the iOS Web app store. This app uses your calendar, GPS, email, and other apps (like Yelp or Weather) to provide you with the most information possible to enhance your daily schedule. Two of Donna's unique features involve its mimicking of real-life personal assistant duties. One is to notify its user when it is time to leave for a meeting that is on their calendar. Donna will take a user's location and traffic patterns into account and will let the user know the approximate time that they need to leave in order to make their next appointment on time.
The second is its ability to stay on top of a user's schedule. Donna can provide a rundown of the next day's schedule at the end of each working day and can also provide reminders about upcoming events. This can help users feel more productive and in command of their schedule as they don't have to manually remember to check for upcoming appointments regularly throughout the day.
Donna Alternative Cue Helps Users 'Get The Most Out of Their Day'
Another popular personal assistant and productivity app is Cue, which is also available on iOS. Cue works in tandem with many other apps, including Evernote, LinkedIn, Contacts, and Dropbox, to make sure users have all available information at each of their scheduled appointments. For instance, if Cue sees a check-in reminder for your upcoming flight, it will schedule it on your calendar, then post an alert that gives you your confirmation number, flight times, and how to check in. Or, if your email or calendar request from a colleague names the restaurant you are meeting for dinner, Cue adds an alert that gives you the complete address that can open in Google Maps for GPS directions to get there. Cue also works with all your contact and social media services, so all your contacts automatically have the most updated information–like phone number, Twitter account, and LinkedIn profile.
The demand for these types of productivity apps will continue to grow as users realize how much they can help improve time management. By working with all other apps, personal assistant apps can help create a streamlined schedule to make the workday a little easier.
[cf]skyword_tracking_tag[/cf]
Comments
comments