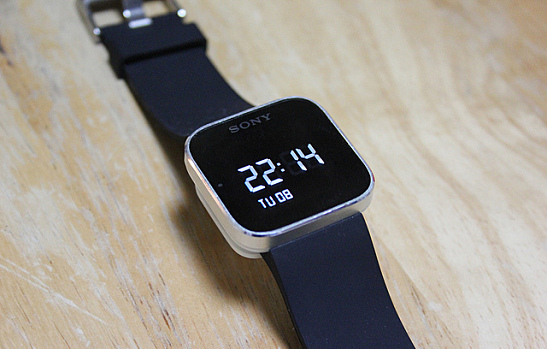 Sony announced that they are releasing the Xperia, a smartwatch that connects with your smartphone as an additional display device, according to CNN Money. This is the follow-up model to the first model Sony released last year.
This newest release by Sony has a variety of several developments, including water resistance, a larger screen display, and the availability to communicate with other devices using Near-Field Communication (NFC). The original model used bluetooth to connect to a user's Android smartphone.
This Xperia SmartWatch runs on the Android operating system and connects with most Android smartphone models, including the Sony Xperia smartphone model line. The device allows you to run many of your smartphone applications, including answering or ignoring calls, taking photos, slide presentation control, GPS distance and time tracking for running or biking, and even reading offline emails. The device can also display Twitter tweets, text messages, and Facebook status updates.
Sony first released a bluetooth-connected watch in 2007, making it one of the first of its kind. However, the smartwatch market is continuing to grow, as CNN reports that Apple filed for the trademark of iWatch in Japan. There have been long-standing rumors of Apple developing an iWatch, but aside from filing patents on the name and design, Apple has been quiet about its development. Many speculate that the iWatch will look similar to the interface as the iPod Nano, which some users actually use as a watch (as there is a clock feature). However, the iPod Nano cannot connect to an iPhone or other device wirelessly.
Another competitor is Pebble. The Pebble watch recently raised over $10 million on crowdfunding site Kickstarter. While the iWatch would presumably run on the iOS platform, Pebble runs on Android as well. After fulfilling the crowdfunding orders, Pebble will begin shipping orders to Best Buy, where it is has inked an agreement to be sold in stores and online at Best Buy's website.
The screen of the Sony SmartWatch 2 and the Pebble watch are a bit different. The Pebble screen uses e-ink, which is the same technology used by the Amazon Kindle paperwhite line. This unique screen has no glare, so it is easier on the eyes and can be read in direct sunlight.
The Sony SmartWatch 1 is currently still available on sites like Amazon.com, where it retails for $95 (and the original manufacturer price was set at $180). Sony's SmartWatch 2 will be available online and presumably in major retailers (like Best Buy) in September 2013.
[cf]skyword_tracking_tag[/cf]
Comments
comments