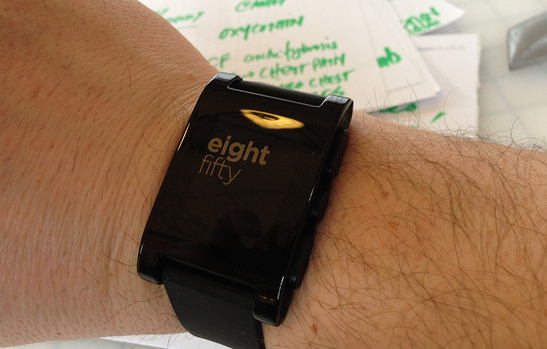 Before rumors of an Apple iWatch set the Internet on fire, the idea of a smart watch was something that generated a lot of interest, particularly among the IT crowd. The idea of a watch that could display notifications from common applications like email, social networking, and text messaging was something a lot of people talked about, but it didn't seem like something a lot of big companies were interested in.
However, several enterprise-minded individuals decided to do something about it. The Pebble Smart Watch began its life as a project on independent funding site Kickstarter, and, after raising ten times more than their initially requested funds (they asked for $100,000, and ended up with more than $1 million), the folks behind the project have finally released details on how those not affiliated with the Kickstarter campaign can get their hands on a Pebble smart watch.
Starting July 7, the Pebble smart watch will be for sale exclusively at electronics retailer Best Buy. It will be available only in Jet Black at first, but other colors, including Cherry Red, are expected to begin shipping in August, according to Engadget. Retail price will be $150 (regardless of color), and there are no plans to bring the smart watch to any other physical retailer besides Best Buy (online retailers may be a different story though).
So what exactly does a Pebble smart watch do? Out of the box, a Pebble watch can sync wirelessly with iPhones and Android smartphones and can automatically display text notifications from synced email, social networking, and text applications. Pebble can also sync with music applications so users can control the music playing on their phone from their watch.
The feature suite on the Pebble smart watch is robust, but what makes this product unique among its peers is that it uses an e-ink display, similar to Amazon's Kindle e-reader. Though this interface might take some getting used to for those accustomed to the high-resolution displays of current smartphones, the simplistic screen allows the Pebble to complement, not replace, your current smartphone.
The Pebble certainly made waves when it was first introduced to the world as a simple idea last year on Kickstarter. However, the product has quickly garnered quite the following. Now that the product is moving up and out of its humble beginnings, it will be interesting to see if the Pebble smart watch can make a name for itself in the market at-large.
[cf]skyword_tracking_tag[/cf]
Comments
comments