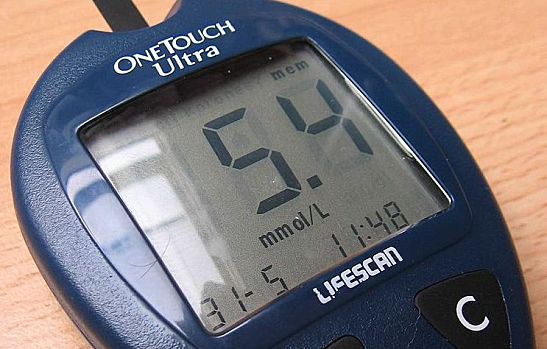 There really is an app for everything. And a gadget for everything. And sometimes those apps coordinate with those gadgets to make something truly innovative. For those with diabetes, apps and gadgets are now working together to help control the condition and allow people to live simple lives. Over at CIO, medical doctor Joseph Kim lists some of the new medical tech gadgets that are geared specifically toward helping diabetic patients.
Glucose Monitors
The glucose meter is an essential piece of technology for diabetes patients. Meters and testing strips have come a long way, and now smartphone technology is taking them even further. Kim says the iBGStar iPhone glucose meter is the first device of its kind to attach directly to the bottom of an iPhone. The app that comes with the device has specific tabs that list blood sugar levels, carbohydrate intake, and insulin doses. Users can track their glucose levels over time and create graphs that display those trends. Patients can easily share this information with doctors as well.
The Telcare wireless glucose meter is a device that operates separately from a smartphone, but it can coordinate with a phone by utilizing cellular signals. Once the meter has tested a strip, users can upload the related medical information over cellular networks to their doctors. In addition, the Diabetes Pal smartphone app (for iPhone and Android) can access the uploaded information and display statistics about a patient's health.
The Glooko app can make use of many off-the-shelf glucose meters. Combined with the Glooko MeterSync Cable that links meters to smartphones, the iOS app (coming soon to Android) works much like the iBGStar and Diabetes Pal apps mentioned earlier by displaying statistics related to a person's health. An online Glooko dashboard is even available for use both by patients and their doctors.
Nutrition and Cookbooks
Glucose Buddy is an iOS app that allows people to track information about their overall health. It can track a user's glucose readings, carbohydrate intake, insulin dosages, and exercise regimens. It also links with an online dashboard where users can find health charts and trends.
Another app available for iOS is iCookbook Diabetic. This app lists healthy alternatives to regular meals, so users can control their diet while also enjoying a great-tasting fare. This can be combined with the Diabetes Nutrition and Diet Tracker iOS app, which uses a smartphone's camera as a bar code scanner. After users scan a food item, they can see a grade of A, B, C, or D assigned to it.
Finally, the GoMeals iOS and Android app helps people make healthier choices by tracking blood glucose levels and providing tools for ordering at restaurants. It allow users to browse online restaurant menus, and it displays the nutritional information for thousands of food items.
Although living with diabetes isn't always easy, smartphones may alleviate some of the struggle. It has never been easier to track and store health information. The benefits for patients and doctors alike are clear.
[cf]skyword_tracking_tag[/cf]
Comments
comments