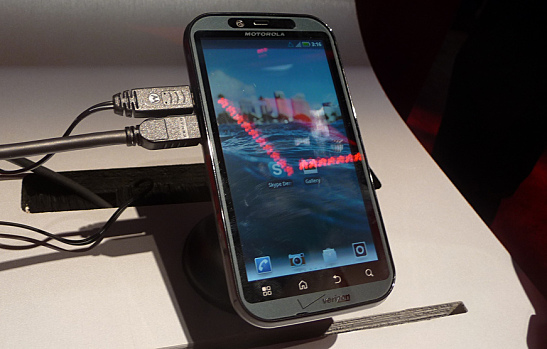 In a press conference on July 23, Verizon showed off several new devices that will soon be added to its lineup. Three devices stand out from the pack: the Droid Maxx, Droid Ultra, and Droid Mini, with the Maxx clearly stealing the show thanks to its impressive specification and new power plant that stretches its battery life up to 48 hours under normal use.
As reported by CNET editors Brian Bennett and Lynn La, the Maxx looks somewhat normal on the outside. There is nothing unusual about its unibody design: a screen that covers most of its front face and three small navigation buttons near the bottom edge. The AMOLED screen is 5 inches in height and has a 720×1,280-pixel resolution. The body of the Maxx is 8.5 mm thick.
It's what is contained within the body that the editors note as the most impressive selling point for the Maxx. Within its plastic walls, the smartphone holds a 3,500 mAh battery that can power the phone for up to 48 hours. This, the editors say, can be compared to its predecessor, the Razr Maxx HD, which boasted a now-paltry 32 hours of battery life.
In addition, Bennett and La point out that the CPU in the Droid Maxx is 24 percent faster than its predecessor. And, to top it all off, the Maxx also sports an eight-core (X8) mobile computing system, quad-core graphics processor, dual-app processor, contextual computing processor, and a natural language processor.
Nathan Ingraham at The Verge reports that Motorola's main focus for both the Droid Maxx and the Droid Ultra is its thin width. Even with the 48-hour battery life basking in the limelight, the Maxx is impressively thin, only surpassed by the Ultra at 7.2 mm thick.
Concerning software on the new devices, Ingraham says the "touchless control" system will get a lot of attention. He says the system allows users to make calls, get directions, and perform other functions without having to actually touch the phone. He points out that users can say "OK Google Now" and begin speaking subsequent commands.
Prices for the new models will not come as a shock to users, either. Ingraham says the models will be released under contracts with Verizon at the same prices as the previous year's models.
Ingraham, Bennet, and La confirm that pre-orders for the new phones are open now and will be available for purchase on August 20.
The CNET editors say all three phones will include a 1.7 Ghz dual-core processor, Android 4.2.2 Jelly Bean, 2 GB of RAM, and two cameras: a 10-megapixel rear-facing and a 2-megapixel front-facing. The Droid Mini will sell for less than the other two models, but it doesn't have an AMOLED screen and its 2,000-mAh battery only lasts for up to 28 hours.
[cf]skyword_tracking_tag[/cf]
Comments
comments