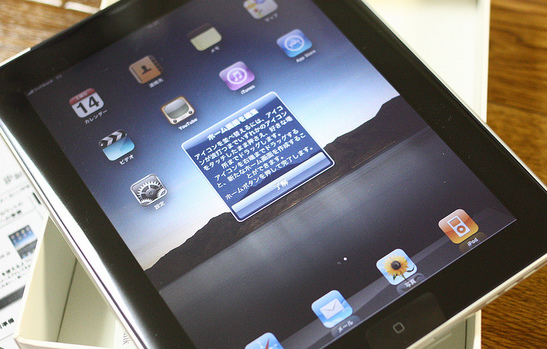 Although rumors about an iPhone with a larger screen have been around for quite a while, there are now whisperings about not only a larger iPhone but about a larger iPad as well.
According to reports gathered by PCMag, both iPhone and iPad screens are due for a bit of a boost. The supersized iPhone model is said to be larger than four inches, and the size for a new jumbo iPad screen could be as much as thirteen inches, if these reports are to be believed.
Reports do not specify whether these screens will be a part of the next cycle of Apple iDevice releases, but the source does say that testing for these large-screened devices is currently underway, which would indicate that consumers may see them as early as next year. The recent rumblings about a larger iPhone have been fueled in part by the so-called "phablet" phenomenon, which was perpetuated by large phones like the Samsung Galaxy Note, which feature five-inch screens and tout utility as a phone and a tablet (thus the "phablet" moniker).
Of course, excited consumers who are looking forward to these bigger iPhone and iPad screens must also keep in mind that Apple does frequently test products that never make it to release so these potential products may never see the light of day.
Apple has not released any details about the launch of its next line of smartphones and tablets, but many analysts are predicting a product announcement later this year, perhaps as early as September.
Many are expecting the announcement of two different iPhone models later this year, including a "budget" model that may drop the iPhone's front-facing camera. However, what is not known is whether Apple will release a new model of its iPad. Its latest release, the iPad Mini, had a smaller screen and was much more wallet-friendly but was missing a few key features like the Retina screen. Many are hoping that an updated model would not only include Retina support for smaller iPad screens but also some new features to make the mini more distinct from its larger cousins and perhaps make it more attractive to budget-minded consumers who still want premium features for a small price.
As usual, Apple has not commented on this latest round of rumor and speculation. But as this long summer drags on, it's certain that we'll hear more Apple-based rumors in the run up to their official product announcements and launch later this year.
Image courtesy of Flickr
[cf]skyword_tracking_tag[/cf]
Comments
comments