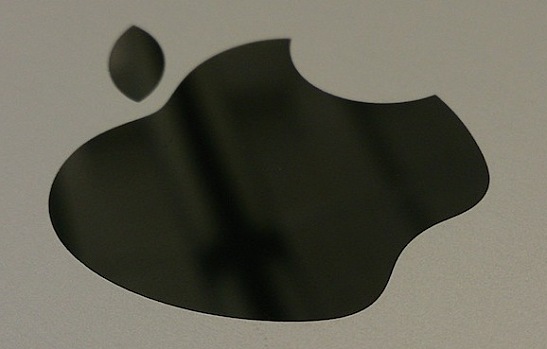 For the millions of Apple owners out there the next big device can never come soon enough. Whether you are looking to upgrade that iPhone, iPad, or iMac; you really want to make sure your upgrade is worth the cost. My weekly Apple rumor roundup will give you insight on all the juicy Apple news from around the globe. I will also breakdown what is probably fact, and what is far fetched Apple fiction. So sit back and relax and enjoy this week's rendition of my Apple rumor roundup!
iPad 5 leaked on Video – August 4th
Rumor: Japanese tech blog MacOtakara has released some very convincing video footage of the new upcoming iPad. The video shows the newest Apple tablet next to the iPad 4 and current iPad Mini. The upcoming tablet is expected to be more slim and borrow styling points from the iPad mini. Although Apple is yet to confirm that they are working on an update to the iPad, Tim Cook has stated that this will be a "very busy fall".
Fact or Fiction: This one is a split decision for me. I do believe that Apple will release a newer iPad come this fall that will resemble the current iPad mini. However, the validity of this video is still up in the air. MacOtakara is historically hit or seriously miss with Apple rumors over the past few years, and blurry video is usually a sign of a fake. That being said, I agree a new iPad is coming sometime in October following the launch of the next iPhone(s) in September.
iPad Mini 2 Rear Housing Leak – August 2nd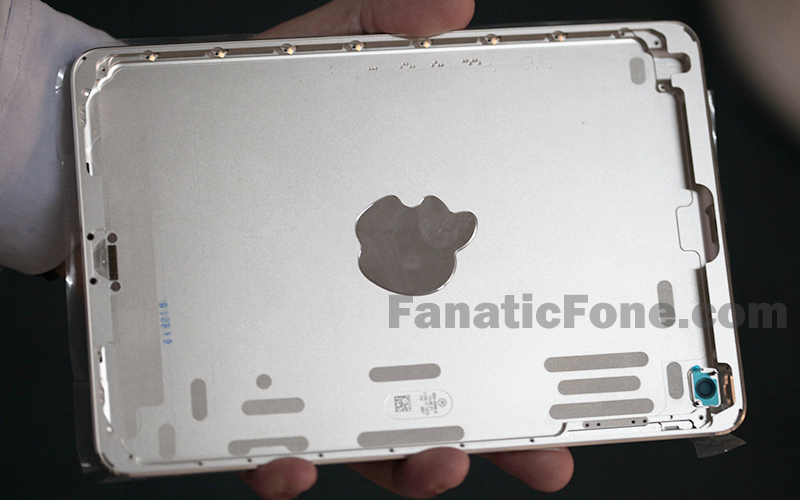 (image courtesy of fanaticfone)

Rumor: New images from FanaticFone.com reveal the latest leaked rear shell of the upcoming iPad Mini. The housing points to Apple using another 7.9″ display with similar dimensions to the current model. The images do show something is different from the current iPad mini. First is the integrated aluminum Apple logo, which is plastic on the iPad mini currently. Next is the missing "iPad" name on the outside. Minor details like this are usually evident on a prototype, and that is what I think we have here, folks.
Fact or Fiction: I think this is an actual prototype shell, but I will give a fiction call on it being the actual housing. The fact that this housing is very similar to the current iPad mini tells me that the next model could only see minor changes. According to respectable Apple analyst, Ming-Chi Kuo, a beefed up retina version of the iPad mini will not debut until March of 2014. I do expect a slightly upgraded iPad mini to debut alongside an updated iPad this October, but will it have a retina display? Hard to tell at this point.
iPhone 5S Display Compared to iPhone 5 Display – August 6th

(image courtesy of LetemSvetemAppleM)
Rumor: Czech site LetemSvetemAppleM has apparently received an email with images of new iPhone 5S display. The two models look almost identical which leads you to believe that this is indeed an "s" type upgrade year. Minor differences such as a longer ribbon cable and some new screws around the home keys point to this being accurate size-wise. In terms of specs, a longer cable normally means a new logic board is arriving. This would make sense since the 5S is considered to have a faster processor, upgraded camera, and possible fingerprint scanner.
Fact or Fiction: I am saying fiction on these leaks. It seems as if the image was originally posted back in July by FanaticFone.com. However, I still think that the next iPhone will be an "S" upgrade and the new panel may look very similar to this one. Proving that this image is a legit Apple part is another story. After all, this could actually be a part to the rumored iPhone 5C which is also said to sport a 4″ screen.
New High Resolution Images of Low-Cost iPhone Surface Along With Price – August 7th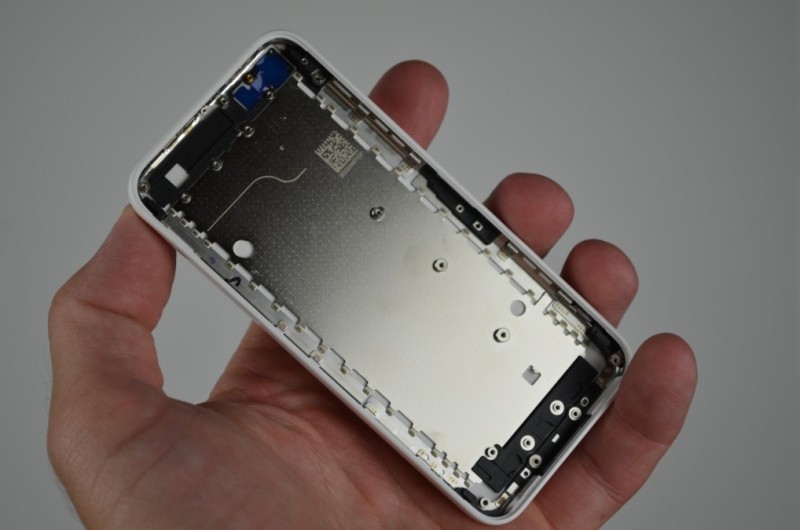 (image courtesy of Sonny Dickson)

Rumor: More images of the rumored low-cost iPhone hit the web today but this time in high resolution. The images come from claimed Apple insider Sonny Dickson. Dickson has been known to be spot on when it comes to Apple leaks and rumors in the past. How he obtains these images is still a complete mystery. Also coming from this story out of China is the proposed price for the new "iPhone 5C". The price comes via micro blogging site Sina Weibo who claim that the device will cost around 3,000 Yuan SIM free, which is about $490 U.S. dollars.
Fact or Fiction: Fact on the phone, fiction on the price. For me Sonny Dickson has been a go to source for Apple related image leaks. This iPhone 5C looks just a bit too good to be a complete fake. The only doubt I have would be that it always appears in the white color. The "C" is said to be available in multiple colors but the white version is the only one that pops up. When looking at the price it does seem a bit on the higher side to me. Analyst have pointed to a $350-$400 price point in the past, and Sina Weibo has not been the most credible source for rumors. When the iPad mini launched last year it was said to have a price point around $200 to compete with the Nexus 7. The higher price point from Apple at $329 shocked everybody, but still, the iPad mini took its place as one of Apple's best selling products. My guess is that the 5C will debut slightly above $400.
Samsung Becomes primary iPad Display Supplier – August 7th

Rumor: According to market research company NPD DisplaySearch, Samsung has supplied Apple with the more of Apple's displays than any other supplier. The analyst, who has been backed by CNET, claims that Apple has been boosting display purchases from Samsung since January. Apple in fact purchased 2.3 million units from Samsung in the first quarter of this year. This then jumped up to more than 4.1 million in the second quarter, according to NPD.
Fact or Fiction: I say fact on this one. Although the Samsung and Apple war rages on, Apple still needs those fabulous displays from Samsung for the iPad and iPad mini. I still can not confirm if those displays for the iPad mini are indeed Retina displays, but we shall see come October.
Leaked iPhone 5S Camera Module Points to a Dual LED Flash – August 7th

(image courtesy of nowhereelse.fr)
Rumor: French rumor site NowhereElse has obtained photos of the new camera module for the next iPhone. The module was initially reported to be for the low-cost iPhone, but the part recently surfaced from a Chinese supplier with a 5S label. The separate module does validate previous rumors from AppleInsider that the new LED flash parts will be included in a "pill" shaped window on the back of the device.
Fact or Fiction: I am calling fact on this one as well. The source has been pretty credible in the past, and the dual led flash rumors match up with previous back panel leaks for the 5S. If Apple is going to compete with the likes of the new Lumia 1020, LG G2, and upcoming Note 3, they will need a fantastic camera with great low light capabilities.
iPhone 5S Could be Called iPhone 5G? – August 8th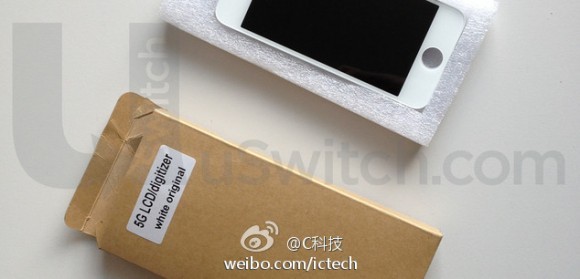 (image courtesy of uSwitch)

Rumor: Images from the UK tech site Uswitch.com depict new iPhone 5S digitizers all boxed up with the words "5G" on the label. The tech site has apparently acquired these images from famed Apple blogger Sonny Dickson, who does carry a pretty good track record when it comes to leaks. The screen is said to keep the same 4″ dimensions of the current iPhone 5, but there is now word this could be for the next iPhone, low-cost iPhone, or just a new part number.
Fact or Fiction: The fact that the images do come from somewhat of a reliable source like Sonny Dickson translate to the parts possibly being genuine. The idea of the upcoming iPhone being called the "5G" is pure fiction. This box is either a fake, or just a part name used to separate the screens from the current iPhone 5 and the upcoming iPhone. The reason why the iPhone 3G was called "3G" was due to the fact it supported 3G networks. 5G networks are still nowhere in sight, unless you count the new LTE-A in Korea a 5G network. Either way, it does not make any sense to me for Apple to leave the "S" naming moniker moving forward. My conclusion is that the part could be real, but the name 5G is a major no go.
Release Dates & Prices
iPhone: In terms of pricing I feel strongly that the new 5S will just slot right into the current spot of the iPhone 5. The 16GB model should cost $199 with a 2-year plan, or $650 contract free. When it comes to the rumored low-cost iPhone it is still hard to tell. Some say upper $300 range, and others say up to $490 (contract fee). I think the device will replace the pricing scheme of the current iPhone 4S. The 4S sells for $450 contract free, and starts at FREE with a 2-year deal.
Dates: As for the launch date all the news and rumors still point to a late September launch for me. My best bet would put both devices launching between September 20th, to around the end of the month. Remember that Apple usually announces new products on a Wednesday, and then makes them available 10 days later on a Friday. This makes both September 20th and September 27th two solid launch dates for the upcoming iPhones. So, when does everybody else think the new iPhone will come out? Over the last month our iPhone "Guess The Date Contest" on our Facebook page captured over 2500 entries and showed some very similar results. Below is a breakdown of when our fans think the new iPhone will debut.
Month: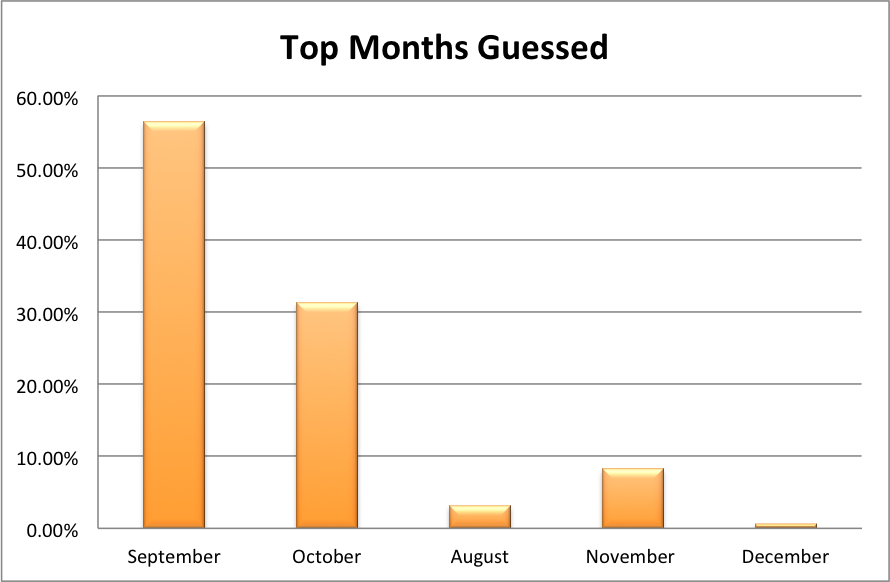 (September dominated with 57%, followed by October at 31%)
Day: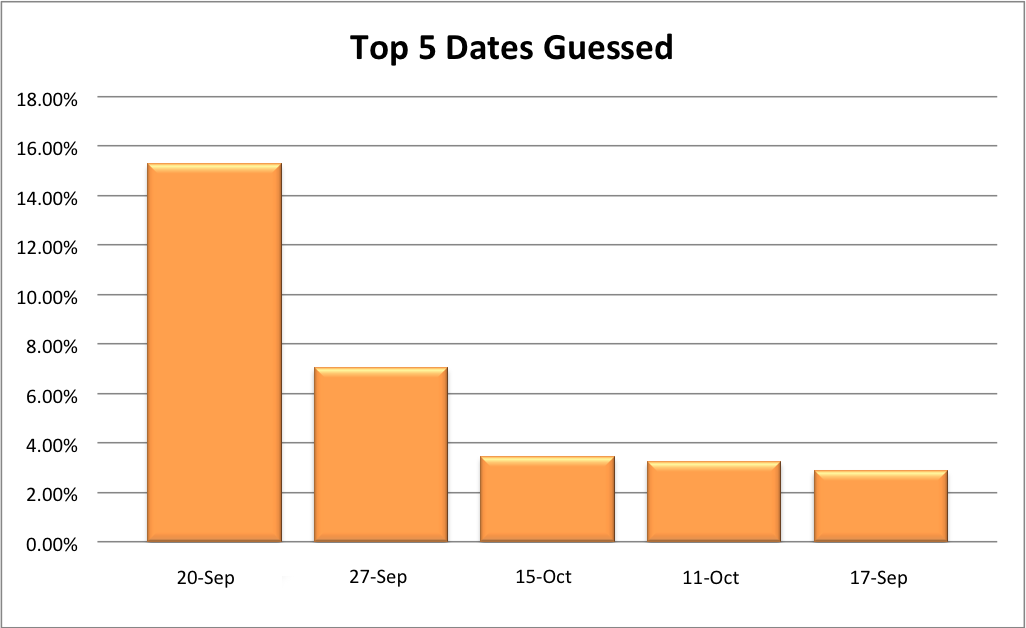 (September 20th leading the way, closely followed by September 27th)

iPad: With Tim Cook stating it is going to be a "busy fall", I do not see the new product releases stopping after the iPhone event in September. Similar to last year, we should see an iPad event in early October. Apple will want to get the new iPad 5 and iPad 2 mini out in time for the big holiday shopping season. The 2 devices will not only be competing against other Android tablets, but also against the likes of the upcoming Sony PS4 and Xbox One gaming consoles. Kids will be crying to mommy and daddy for both new iPads and consoles, but most will have to choose just one.When it comes to price point I do not see any drastic changes here, if any at all. The iPad 5 should jump into the iPad 4 pricing slots, and similarly the iPad Mini 2 will just replace the current model.
Conclusion: I know all the rumors and news surrounding Apple can cause quite the headache, especially when you are planning to upgrade the moment they come out. The best advice I can give is to wait patiently, take good care of your current device (to maximize your Gazelle trade-in value), and subscribe to the Gazelle Horn. I will be here every week breaking down all the latest Apple rumors, news, and leaks just for you!
[cf]skyword_tracking_tag[/cf]
Comments
comments