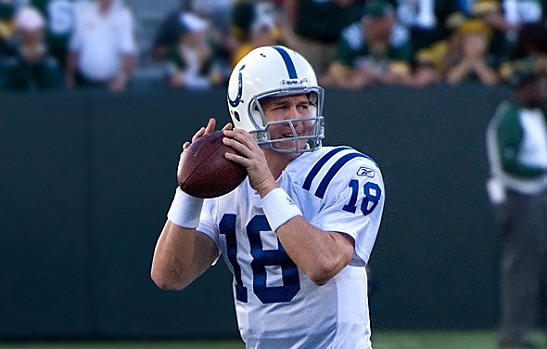 The Manning brothers may be top-level quarterbacks in America's favorite sport, but who knew they were also closet rap stars? Well, maybe not so much on that second point, but their latest parody rap video, courtesy of DirecTV, shows that they just may be budding comedians. The video is designed to highlight DirecTV's NFL Sunday Ticket Max offering, which, as the video repeatedly points out, allows you to stream football on your phone.
Like many good promotional music videos, this one combines a strangely catchy refrain with plenty of deadpan comedy delivered by two guys who are completely out of place in a rap video. There's a cameo from the brothers' dad, Archie, and a rundown of the many occasions on which you could be enjoying football on your phone: like when you're on a date with Simone, when you're taking out a small loan, or even when you're buttering a scone.
DirecTV
DirectTV's offering is the latest move toward more mobile television, and despite the NFL's popularity, the league has been pretty slow to allow football to be streamed on mobile devices. Broadcast networks pay a pretty penny for the rights to show the games, so a consolidated football streaming app has been slow to arrive. DirecTV's service and application don't give you every game, but they do give you every out-of-market game on Sunday afternoons, which constitutes over 80 percent of the available games each week. It should be noted that the program isn't cheap, and that it usually requires an existing DirecTV subscription, with a few caveats for special circumstances.
NFL Mobile
If you don't want DirecTV's offer, but you still want to get live football games on your smartphone, your next best option is through NFL Mobile. The app is filled with stats, scores, videos, and updates about the game, and Verizon subscribers have the ability to watch live games on Thursday, Sunday, and Monday nights. It's only three games a week, but the NFL chooses the games for these slots carefully, so you'll normally get access to three of the best pairings that the league has to offer.
If you don't mind watching the games a little after they air, the NFL Game Rewind app for your tablet may be the answer. It offers condensed replays of every NFL game, including the playoffs if you choose that particular subscription. The app even offers the all-22 view of some of the plays, which is perfect for true students of the game. The app has garnered mixed reviews, and it's only available for tablets, but you can be sure that the NFL will improve its quality as the season progresses.
Your smartphone and tablet may be good for a lot of things, but you can forget most of them — because as the Manning brothers say, now "it's for footballing." Check out the video on YouTube if you want a laugh, but be aware that even if you don't particularly like the song, at some point throughout your day you'll find yourself humming the tune. You've been warned.
Image courtesy of Wikipedia
[cf]skyword_tracking_tag[/cf]
Comments
comments