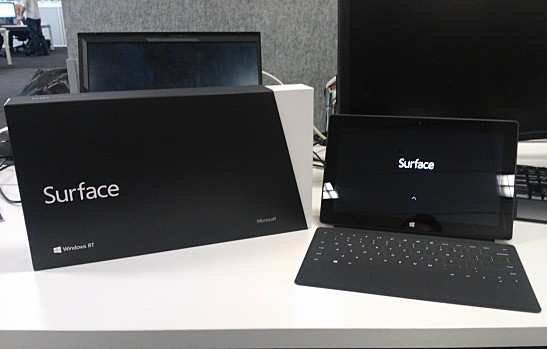 In recent news related to the ever-competitive tablet market, Microsoft has initiated a sale for its flagship tablet, the Surface Pro.
The cost of the device, according to Tom Warren, a writer at The Verge, will drop by ten percent for both the 64GB and 128GB models. This reduction in price, he says, comes not long after a similar drop in price for the Surface RT, which was cut by 30 percent in early July.
After confirming that the reduced price will take place only through the end of August — and only for customers in Canada, China, Taiwan, and the US — he quotes a statement from the company.
"We've been seeing great worldwide success with Surface RT pricing and keyboard-cover promotions over the past several months and are proud to offer Surface Pro at more affordable prices starting today," Microsoft said.
In some ways, the cuts for Microsoft could cause investors and consumers to worry about the present and future of the Surface Pro and its brethren tablets. Warren notes that Microsoft has spent more on tablet marketing in its most recent quarter than it gained in revenue from the Surface RT.
Therefore, a drop in price could be seen as a desperate move by the tech giant as it tries to recoup some of its expenditures by selling more units at a deflated price.
Such an analysis may be premature, however. The price drop could simply be a change in strategy, gearing up consumers for an influx of new, cheaper devices. According to Dan Grabham at Tech Radar, analysts expect a handful of new devices to roll out in 2014, including a new Surface.
Grabham says a recent bout of Microsoft job advertisements point to the hiring of new talent that will work on the next-generation Surface. In addition, a smaller 7-inch version of the tablet may also be in the works — one that will compete directly with the iPad mini.
A smaller version of the Surface could very well mean a reduction in price, compared to the full-size model. And all models may be enhanced with the new talent that Microsoft is seeking. For sure, they are attempting to improve the battery life of their tablets and enhance each device's capabilities.
If a future, permanent reduction in price can be achieved, it will definitely bring forth more customers who either haven't had the money to spend or were holding out for a sale. Similarly, increased capability for the Surface, in all its iterations, will keep tech gurus around, no matter the cost. This may also be a good time for anyone willing to sell a used tablet to gather some extra cash for a down payment on a cheaper Surface.
Image courtesy of Wikimedia Commons
[cf]skyword_tracking_tag[/cf]
Comments
comments