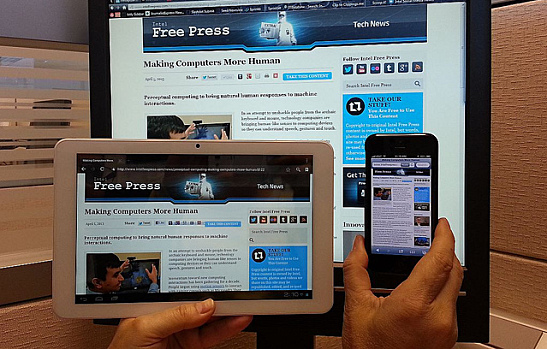 It looks like HTC is continuing to make big moves in the smartphone market. A few leading technology websites have picked up on its plans for new, larger smartphone models spun off the HTC One line.
German site Mobile Geeks has tracked down some information from sources in HTC's operational base of Taiwan, where the indication is that HTC has plans this year to release its biggest smartphone to date: a 6-inch version called the HTC One Max. The site's sources report that this "phablet" (phone + tablet) is scheduled for release in September.
According to Mobile Geeks, the HTC One Max specs include:
6-inch 1080p Super LCD display
Qualcomm Snapdragon 2.3Ghz Processor
RAM: 2GB
Internal Memory: 32GB or 64GB
Phablet Competitors
TechCrunch is reporting that HTC's rumored plans to release a smartphone with a large 6-inch screen are geared toward competing directly with Samsung, another overseas technology giant that has achieved great success with its large Galaxy Note 3. GottaBeMobile reports that the Galaxy Note 3 (whose release should be happening within the next few months) has a 5.7-inch 1080p screen. So, if the HTC One Max rumors are true, customers will get a bigger screen size, which may be the main difference between these HTC and Samsung competing phablets. They both will boast the same processor speeds and both run on Android.
Although pricing for either device is not known, it could be another factor in purchasing patterns for consumers. In addition, not all smartphone manufacturers make their models available through every cell phone service provider, with some choosing to release exclusively with a company like Sprint or AT&T, for example.
These considerations will all make a difference in who will be crowned the phablet sales leader of 2013 and beyond if larger smartphones continue to be made available to consumers.
The Rise of Mobile Popularity
Experian reports that the average smartphone user spends about 58 minutes each day on his or her phone, and users are doing more than just making voice calls. While the majority of a user's time is spent making calls (26%), other time spent includes 20% for texting, 6% for social media use, 14% for browsing the Internet, and 9% for emailing. The rest of the time is spent playing games and utilizing the phone's GPS and camera features.
The way that consumers use their smartphones directly relates to what smartphone manufacturers are planning for future models. If the demand for phablets grows, we will surely see bigger phones becoming more commonplace among smartphone users.
Image courtesy of Flickr
[cf]skyword_tracking_tag[/cf]
Comments
comments