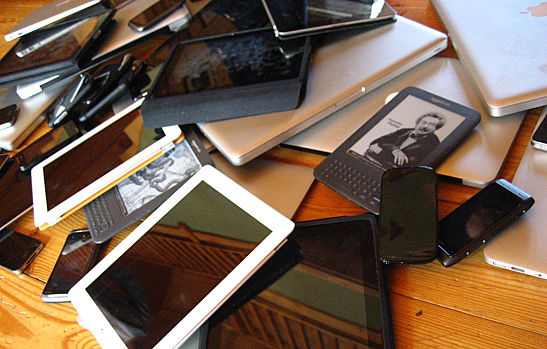 "What's in the box? What's in the box? What's in the box?" In the box are pictures found on a Taiwanese tech site that very well could be the first look we get at the upcoming HTC One Max (code-named T6), HTC's answer to the Samsung Galaxy Note line. The tech world is abuzz with speculation. Here is what we can gather at present.
What It Tells Us
The phone was hinted at when a leaked document from a UK carrier, O2, hit the Internet. Now the world gets a chance to see the phone, and while not much can be discerned from the image, we can tell that it has a 5.9-inch screen and that it will boast a 1080p display. But really, why even bother making a phone if you're not going to make it at least 1080p? For those of us keeping track, this is a larger screen than that of the Samsung Galaxy Note II, which has a 5.5-inch screen; whether this is a plus or a minus is all up to personal taste since the size of a phablet can be simultaneously both its greatest strength and its greatest weakness.
What We Know
The fact that it's a mystery tech item means that we do not yet know as much as we would like about this phone, but what we do know is pretty exciting. Engadget has reported that the phone sports a 2.3GHz Snapdragon 800 processor and a 3300mAh battery, which basically means it's going to be super-fast, so it will need a super-strong battery to keep up. This is significantly faster than the current HTC One, which has a Snapdragon 600. Also, while the processors are different, the HTC One Max will have the same UltraPixel and 2.1-megapixel front-facing cameras that its predecessor currently sports. It will run Android 4.3 with 2GB of RAM and an estimated 16GB of storage, according to reports from the site.
Sources around the Web tell us that the phone is set to be unveiled next month at IFA, the global electronics innovations trade show, and will be released shortly thereafter. If you're looking for a phablet option other than the Samsung Galaxy Note, you should keep your ear to the ground for more news of the HTC One Max. We will keep you updated as new information trickles down through the gadget-vine.
Image courtesy of Flickr/Jeremy Keith
[cf]skyword_tracking_tag[/cf]
Comments
comments