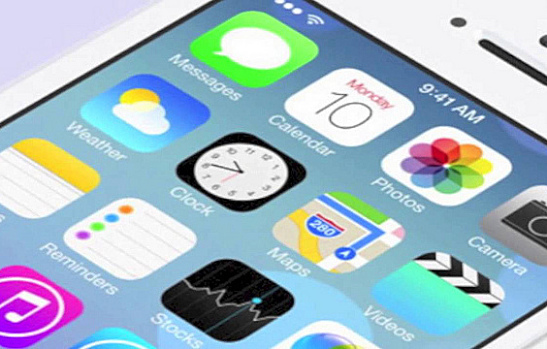 The unveiling of a new Apple device usually means a new iOS, and that time is almost here again. While developers have been able to get their hands on test versions since the first beta release in June, the September 10 launch date for the iPhone 5S will mark the first time the software platform is available to consumers. Will the new operating system prove to be worth the wait? Will it need an immediate upgrade? These questions will be answered soon enough. For now, here is a look at what iOS 7 has in store.
Sharing with AirDrop
Some iOS features are merely improvements to existing services. Others, such as AirDrop, are all-new additions. AirDrop is a built-in app that allows you to easily share contact data, photos, and videos with a quick click of the "Share" button. The application sends data over Wi-Fi and Bluetooth and encrypts transfers to protect content. By preventing the need to share content via email or a third-party cloud service, AirDrop could very well play a role in revolutionizing how users share content across mobile devices.
iTunes Radio
The evolution of iTunes has been remarkable, and iTunes Radio may offer the most personalized experience yet. In addition to Featured Stations and genre-based options, listeners can also build their own stations based on the music they currently listen to and the tracks they download from iTunes. Custom stations can be set up on demand, and listeners can tweak them to play whatever appeals to their tastes; from artists to songs to genres, users are in control of the listening experience. As a bonus, iTunes Radio is plugged into Siri, so users can command the handy personal assistant to play, pause, or browse through their music.
New and Improved Multitasking
Multitasking is not new in the iOS environment. From day one, it has been possible to perform such actions as fade out music, answer a call, and then go right back to jamming, all without missing a beat. The landscape changed, however, when third-party apps were invited into the ecosystem, mainly because they were not permitted to run in the background. Small strides have been made, but they have not been enough to overcome the historically frustrating multitasking experience for app enthusiasts—until now.
In iOS 7, Apple has overhauled multitasking in a major way, making it possible to switch between all apps and services running on the user's phone. A quick double-tap of the Home button provides a sneak peek of all the apps the user has open, and terminating them is as easy as swiping them up and out of view. The new multitasking system allows the user to schedule updates so their favorite apps are kept fresh with the latest information; energy usage is efficiently maximized to preserve battery life by scheduling updates when the device is powered on and connected.
Better Notification Center
The Notification Center has been a part of the Apple mobile device experience since iOS 5. From day one, it aimed to make sure users could easily stay on top of missed calls, new email messages, appointments, and other important information. Support for notifications is noticeably beefed up in iOS 7, and a new feature by the name of Today takes center stage. From birthdays to traffic delays, Today serves up an at-a-glance summary of everything the user has on the agenda for the current day. It even offers the outlook for tomorrow as well. The Notification Center itself provides convenient access from any screen, even the Lock screen, with a quick swipe down the display.
Robust Business Suite
Mobile devices are handy companions for professionals, but it is the software under the hood of the hardware that gives them their business appeal. The latest version of iOS offers a whole slate of exciting new features businesses can put to good use, including improved mobile device management, company-wide single sign-on, and the ability to create virtual private networks for individual apps. There is also an App Store License Management feature that lets companies grant and control employee access to internal applications.
The iPhone 5S will be first to showcase the new software. According to MacRumors, the iPad will likely have to wait until late September or early October, which is when there may be an updated tablet from Apple. With competition in the mobile device arena fiercer than ever, there is no guarantee that Apple's next roster of gadgets will rule the market; but from the looks of it, iOS 7 will do its part.
Image Courtesy of Flickr/Zennie Abraham
[cf]skyword_tracking_tag[/cf]
Comments
comments