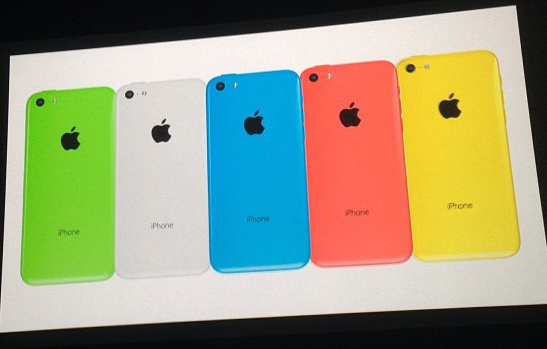 Ever since the rumors began swirling that Apple intended to create a low cost iPhone, tongues have been wagging about what the phone won't include. Would the iPhone 5C drop the front-facing camera? Sport a low-res screen? Have a slower processor? Fortunately, none of these possibilities came to fruition, and it looks like the iPhone 5C has a lot more in common with the current-generation iPhone 5 than anything else.
For starters, get the same 4-inch Retina display as the iPhone 5, an A6 processor, and an 8-megapixel, backside-illuminated camera with a 5-element lens. The iPhone 5C's front-facing camera is actually a step up from the iPhone 5, and promises better performance in low light.The iPhone 5C also has improved battery life over the regular iPhone 5, according to Gizmodo.
If the inside is largely the same, what's new about the iPhone 5C? As rumored, the device has a colorful new polycarbonate design that is unapologetically plastic and available in a wide range of fun colors including blue, white, pink, yellow, and green. But aside from cosmetic features, the iPhone 5C does not compromise on any technical aspects of the iPhone, and simply seems to be a redesigned iPhone 5 with a lower price.
Although the iPhone 5C isn't much different from the current-generation iPhone 5, its technical specs certainly pale in comparison with the iPhone 5S, which was also announced today. The 5S is twice as fast as the iPhone 5 (and 5C) and will be the first smartphone to include a 64-bit processor. The iPhone 5S also includes an advanced camera with digital single-lens reflex (DSLR) features and the much-rumored fingerprint scanner feature.
Though the iPhone 5S is certainly at the cutting edge of smartphone technology, the iPhone 5C seems to fit the bill nicely for many and will only set buyers back by $99 (with a two-year contract) for the 16GB version, and $199 for the 32GB version. Apple has also designed some new cases to match the iPhone 5C which feature colorful designs meant to complement the new handset's plastic design and which will cost only $29 apiece.
Though the prospect of a low cost iPhone made more than a few in the tech world nervous, the iPhone 5C has all the features we've come to expect from Apple's flagship device, and it looks like a great entry point for those who want to get their first iPhone or who haven't yet upgraded from the iPhone 4 line.
Image courtesy of Flickr
[cf]skyword_tracking_tag[/cf]
Comments
comments