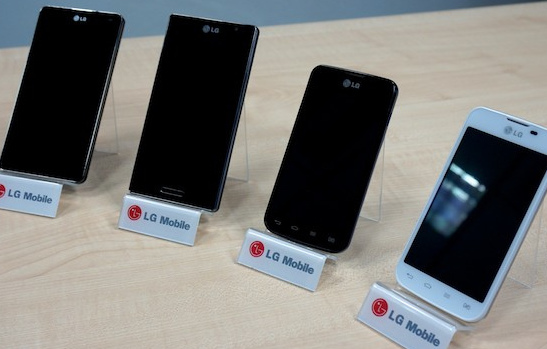 It has been a while since LG has made a big play in the mobile sphere, but that all might be changing soon if LG's mobile communications head in Bulgaria, Dimitar Valev, is to be believed. In an interview on a Belgian website, Valev laid out plans that, if true, could finally get LG into the mobile sphere in a big way.
Chief among the revelations was the confirmed existence of an LG tablet tablet as well as a "phablet" device that has a 6-inch screen. Though Valev was wisely silent on specs for the purported LG tablet (which would continue the all-but-forgotten G Pad series) and smartphone, he did say they were being prepared for launch in early 2014, according to TechnoBuffalo.
Also included in the interview was confirmation that LG is working on its own brand of smartwatch, designed to rival offerings from Sony, Apple, and Samsung and could feature a flexible display. Valev also mentioned that LG was developing an unspecified device that runs Firefox OS. That last bit is particularly interesting, as Firefox OS has not been seen very much in the US market. Though it is doing well in its pre-launch phase in developing markets like India and Brazil, Firefox OS has yet to come to the US. Could LG be behind Firefox's first big push into the American market? And if so, could the smartwatch Valev mentioned be the device running the operating system? Valev didn't offer specifics, but the possibilities surrounding the first real US product to run this new OS are certainly tantalizing.
Though LG has enjoyed success with appliances and television sets, the electronics manufacturer has not seen the same success with its mobile offerings. Mobile flops like the LG Thrill, Optimus Pro, and the G Pad have lost the manufacturer some ground in the race for mobile dominance, and competitors like HTC and Samsung have quickly snapped up any market share that LG might have earned.
LG wisely withdrew from the mobile scene for a bit, but Valev's statements indicate that the company is ready to reenter the market in a big way in 2014. Though we are expecting big news from Apple, Samsung, and Sony in the closing months of 2013, next year may be a big one for LG. The big question, though, is whether consumers who have gotten used to products from other companies will be willing to give LG another shot in the already crowded tech landscape.
Image courtesy of Flickr
[cf]skyword_tracking_tag[/cf]
Comments
comments