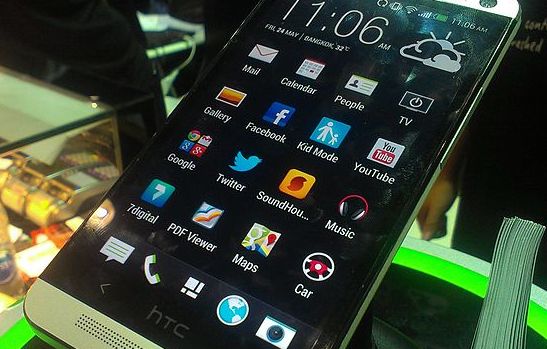 Though the HTC One Max has not yet been formally announced, some early details about the phone have been revealed via a massive photo leak. Supposedly, the images show the new handset next to competitors like the Samsung Galaxy Note 3 and the Note 2 and reveal that the latest HTC device is going after the burgeoning "phablet" market, which tries to blur the lines between phone and tablet.
The photos show the HTC One Max as being longer and thicker than the Samsung Galaxy Note 2 and 3 and also seemingly confirm that the new HTC handset will have a removable back with room for a single micro-SIM card as well as a fingerprint-scanner feature on the rear panel, according to NDTV Gadgets. The device had previously been rumored to have a 5.9-inch screen, and while the photos do not provide an exact measurement, they do seem to back up the rumor, as the screen does seem to best the Note 2 and 3 in the leaked photos. Of course, none of the photos feature a perfect camera angle, so it would be unwise to take these rumored measurements as gospel until we get a formal announcement from HTC.
The HTC One Max is rumored to contain a Qualcomm Snapdragon 600 chipset, which would put the device on par with the currently available HTC One and could make it a tough sell for those who want a device with better tech under the hood. The device is also rumored to come with a stylus similar to Samsung's S Pen. However, the leaked photos do not confirm the presence of a stylus.
However, considering the phablet market is currently ruled by the Samsung Galaxy Note series of smartphones, the HTC One Max could capitalize on the lack of abundant choice in the market to sell its new handset to those who aren't pleased with Samsung's offerings in the big-screen phone space.
Though the HTC One Max has not been formally announced yet, it seems likely that HTC will unveil this new handset sometime before the close of 2013 and will launch it either before the end of the year or in the beginning of 2014. What is unclear is whether this device will be able to compete with the aforementioned Note 3 as well as the iPhone 5S. Also in the mix is the just-announced BlackBerry z30, which is another phablet-style phone that sports a 5-inch screen but as yet has no price or release date.
Image courtesy of Wikimedia Commons
[cf]skyword_tracking_tag[/cf]
Comments
comments