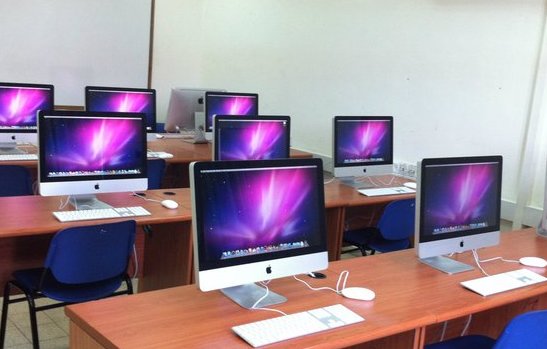 Though consumers are still buzzing about Apple's recent launch of the iPhone 5s and 5c, Apple has also unveiled an update to one of its flagship products: the iMac. The surprise announcement lacked the fanfare and excitement that typically accompanies Apple's rollouts, but that doesn't mean this isn't huge for fans of Apple's best-selling home computer system. Though the iMac's annual incremental upgrades have been somewhat disappointing, 2013's new iMac actually features some impressive improvements over the 2012 model, including a few new features that may tempt even those who've recently purchased an iMac to consider moving up.
What's New?
To begin with, the latest iMac features an Intel Core i5 processor, as well as new Iris Pro graphics which are 40% faster than the previous generation iMac's graphics, according to TechCrunch. And that's just for the base model. If consumers want to spring for the upscale model, they'll get a 3.4GHz Core i5 Haswell processor, and NVIDIA GeForce 700 series graphics with 4GB of dedicated memory.
Next-Generation Technology Upgrades
The iMac wireless card has been bolstered across models to support "next-generation" wireless 802.11ac technology, which makes it compatible with the AirPort Extreme and Time Capsule routers that were introduced last year. The new iMac also includes Apple's Fusion Drive technology (which was previously used in the MacBook Air notebooks), combining the capacity of a hard disk with the speed of a flash drive; these drives are reportedly 50% faster than their most recent predecessors. The new drives are available in capacities of either 1 TB or 3 TB, for the basic or premium model.
Prices for both the base and the upscale model are holding steady at their current levels ($1,299 and $1,799, respectively), but of course for a custom iMac, prices may vary depending on what upgrades are selected; for example, online customers can upgrade to an i7 processor and get up to a massive 32 GB of RAM if they don't mind paying a little more. The new iMac is currently available for purchase online and should be rolling out to physical retailers in the coming days.
Back on Top
Though the iMac has been known for some underwhelming upgrades over the past few years, it looks like Apple is shaking things up for 2013 and has finally brought its most popular desktop model back up to the cutting edge of desktop computer technology. Though the spotlight may be on Apple's moves in the tablet and smartphone realms, it is important to remember that Apple is a major player in the desktop computer market, and this new iMac proves that they are committed to advancing their presence in this space.
Image courtesy of Wikimedia Commons
[cf]skyword_tracking_tag[/cf]
Comments
comments