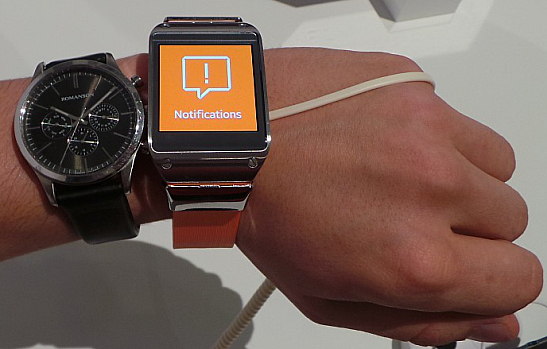 In early October, users in the U.S. will finally get their first taste of Samsung's Galaxy Gear smartwatch. Samsung is trying to free users from the inconvenience of handling their phones by creating a seamless interface between a user's wrist and the phone in his pocket or bag. Despite some criticism, the Galaxy Gear has officially begun a worldwide battle for smartwatch dominance by inserting a major electronics manufacturer into the playing field.
Specs of the Smartwatch
Samsung outlines the features of its new smartwatch in a press release that discusses user notifications, voice recognition, and the ability to snap photos. Samsung says the Galaxy Gear can keep users up to date through a variety of alerts, from texting to email to social network updates, by displaying messages on the watch's screen. Users won't have to scramble to retrieve their phones from pockets or handbags just to read the latest text messages.
The Samsung smartwatch can also respond to voice commands, so users can draft or send a message to their friends or coworkers. Samsung also points out that users can work with their phone's calendar, set an alarm, or check the weather all by voice interface. So the benefits of voice recognition go beyond simply reducing the need to handle and interact manually with the phone; users will be able to respond to or ignore a notification quickly, and somewhat discreetly, when voice commands are employed.
If that isn't enough, the Galaxy Gear also features a 1.9-megapixel camera. It's not as bold as the 13-megapixel camera on the Samsung Galaxy S4, but it sits on a user's wrist and is available at a moment's notice. Smartwatch wearers won't miss a photo opportunity ever again with the camera that's always ready to go.
A Few Criticisms
The new watch is impressive, but writers like Ron Amadeo at Ars Technica have their concerns. Amadeo reviewed the smartwatch at a Samsung event in New York, and the first hurdle for users, he says, is that the new smartwatch is only compatible with smartphones that run Android 4.3 or higher. This means only the newest smartphones will interact with the watch—a downer for smartphone users who aren't yet ready to upgrade to the newest handset. In addition, Amadeo said issuing voice commands, and especially making phone calls with the watch, is troublesome in a noisy environment.
Yet he recognizes that Android 4.3 devices will be highly compatible and that the watch's touchscreen resolution is perfectly usable. There is a lot of room for improvement, but it appears Samsung is taking steps in the right direction. The Galaxy Gear, if adopted en masse by users, should take the smartwatch game to the next level. With competitors such as Sony and Pebble always at its heels, Samsung will probably look to improve on this model and future smartwatch models in the coming years. For those bold enough to jump in head first, the Galaxy Gear will be available for $299 next month.
Image courtesy of Wikimedia Commons.
[cf]skyword_tracking_tag[/cf]
Comments
comments