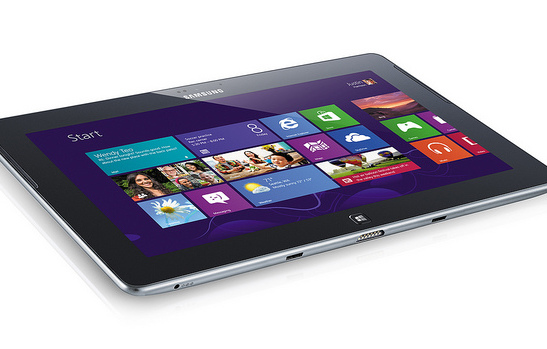 Though Samsung may have the world's bestselling line of Android tablets, it could also be on its way to increasing the market share of the Windows RT operating system, if a new report is to be believed. According to CNET, information has surfaced revealing that Microsoft has asked both Samsung and Huawei to consider loading the OS onto their current Android tablets and smartphones as a dual-boot option; Samsung has responded by beginning development on the next generation of its flagship 12-inch Samsung Galaxy Tab tablet — with the dual-boot option.
Reliable Sources
The source for this rumor is tech writer Eldar Murtazin, who has broken several news stories in the past that have turned out to be true, including a recent leak about an Nvidia Tablet. Though Murtazin doesn't have a perfect track record, insiders are inclined to believe this newest rumor, especially as Microsoft looks to expand the presence of the Windows RT operating system beyond its own Surface tablets.
This new rumor follows on the heels of reports that have surfaced in recent months that HTC, too, is considering offering a smartphone that can dual-boot Windows and Android, with Microsoft allegedly offering HTC compensation for the feature in an effort to expand its current fourth-place market share.
An Open Window for Microsoft?
These whispered backdoor deals may seem a little too bold for Microsoft, but unfortunately the terrain has been rough for the software giant in recent years. Though the Windows Phone has been making small gains in market share, it still lags behind iOS and Android by double digits and is only now catching up to BlackBerry in operating system share.
The results haven't been much better on the tablet front, with both the Microsoft-produced Surface Tablet and the Ultrabook line of Windows tablet failing to generate truly impressive sales. Though these purported moves seem a little drastic, Microsoft needs to quickly regain some ground if they are going to compete with Apple and Android, who together make up almost 90% of the mobile operating landscape.
If Samsung does indeed make the next generation of Samsung Galaxy Tab tablets with both Android and Windows operating systems, it would be an interesting move, as Samsung's current base is comfortable using the Android operating system. Could the option of including Windows RT as an optional feature get Samsung Galaxy Tab users to explore the features of Windows RT?
Image courtesy of Flickr
[cf]skyword_tracking_tag[/cf]
Comments
comments