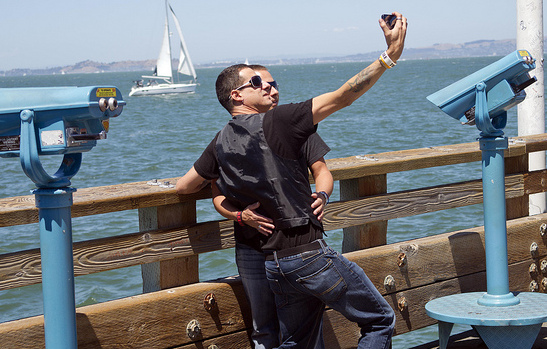 Photography used to be an art reserved for professional portrait studios and family vacations, but the advent of smartphones and social media has made everyone into a shutterbug. The self-portrait, or "selfie," has become the true mark of prowess behind the smartphone. So how do you take the perfect selfie? Here are five tips that you can employ to get the most out of your phone's camera and take that super shareable shot.
Get the Light Behind You
One of the most popular places to take a self-portrait is in a bathroom. You can do your makeup in the mirror, take care of your hair, and wash your face, all in one place! But before you take that photo, look at the ceiling. Is the light above you? If so, then don't snap that picture. Overhead lighting has a distorting effect and will wash out all your features. Instead, find a place where the light is at your back (natural lighting is best) and your features are able to come through as vibrantly as possible.
Stretch Your Neck
According to fashion photographer Nigel Barker on ABC News, you can avoid a double chin in your selfie by stretching your neck upwards while facing the ceiling (in a move he calls "The Turtle") and then tilting your head downward to face the camera.
Keep Your Phone at Eye Level
If you hold your phone up too high, you look very small. If you have your phone too low, your head will look very large and your shoulders will look extremely broad. Instead, hold the phone at about eye level to capture a clear view of your face.
Don't Pose
Though you might want to make a goofy face or make gestures with your hands, that doesn't make for a very good selfie. Think positive thoughts, strike a confident smile, and you'll look better than you would with pursed lips or a peace sign.
Don't Use the Mirror
Though it's easy to take a picture of yourself in the mirror, there's really no reason to do this. First of all, you don't want your phone taking center-stage in your picture. Second of all, it lowers the angle that you can take your photo at, which, as we've already stated, should be eye level. Many phones now have front-facing cameras now, so you can see exactly what you're getting before you snap.
Image courtesy of Flickr.
[cf]skyword_tracking_tag[/cf]
Comments
comments