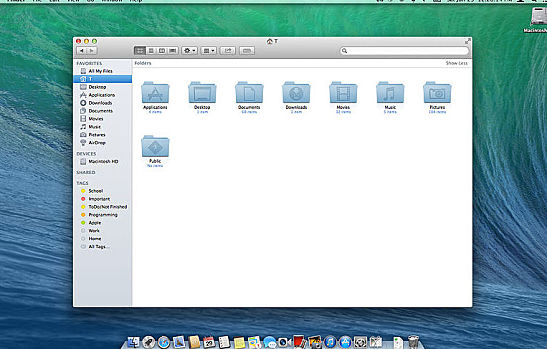 Apple announced today that its new operating system, OS X Mavericks, would be available free to current Mac users who have a computer that was manufactured after 2007. No matter if you are running the Mountain Lion, Lion, or even Snow Leopard operating systems, you can now upgrade to OS X Mavericks today for free. If you are wondering how to upgrade to OS X Mavericks, the process couldn't be simpler:
Launch the Mac App Store. Ensure you are logged in with an account that can make changes to the operating system.
Select the "OS X Mavericks" download from the "Featured" menu at the top of the App Store. If you don't see it immediately, you can search for "OS X Mavericks" using the search box at the top right corner.
Click the download button and then wait for the install to finish. If the download does not begin automatically, your computer may be too old to be compatible for the new OS. Check your model's manufacture date from the "System Information" application.
Wait for the prompt and then restart your computer. Once restarted, you will be able to set up preferences for your new operating system and enjoy it in a few minutes.
No matter what OS you are upgrading from, all of your content will be automatically transferred to the new operating system. Though you won't notice too many visual changes when you upgrade, OS X Mavericks should help your machine run a little faster (thanks to its new way of handling compressed memory) and supports features like tagging content and updates for core applications like Safari, according to Gizmodo. OS X Mavericks also has redesigned Maps and Calendar applications and an improved (and better integrated) notification center among its features.
While the OS X Mavericks operating system doesn't make radical changes to the OS X infrastructure the way that other incremental OS upgrades have in the past, this new update is the first to be completely free to users, which is a big deal in an age in which operating systems on the PC can cost hundreds of dollars to update.
Now that you know how to upgrade to OS X Mavericks on your Mac, will you be logging into the App store today to take a look, or are you going to wait a little while in case there are some bugs that need to be worked out?
Image courtesy of Wikimedia Commons
[cf]skyword_tracking_tag[/cf]
Comments
comments