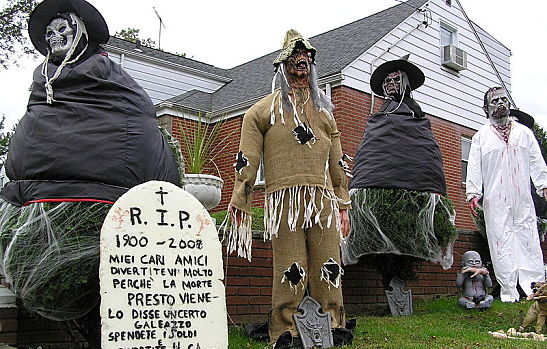 Think your phone can only play games and send funny videos? If you're looking for ways to subtly work a little fear into this spooky holiday, then pick up your smartphone and head to the app store for some fun Halloween apps. There is a lot to choose from, but here are three to get you started.
Scare Your Friends—SHOCK!
As far as surprising Halloween apps go, this is the big one. When you turn on this app, you'll be able to set three elements: a picture, a noise, and a timer. The pictures are all scary photos of zombies or monsters, and the noises are all loud and ominous, like a scream or a shriek. Once you combine these two elements, all you'll need is to set the timer, hand it to a friend, and wait. The phone will operate normally until the time is up, when the screen will be overridden by that phantom photo and loud noise—a guaranteed way to make your friends jump out of their seats. Just make sure they are somewhere safe, since people tend to drop things when startled.
Zombies, Run!
Need a little motivation to get you exercising? Then download the most popular running app on the market. "Zombies, Run!" is a narrative you listen to in between songs on your workout soundtrack, where your character is a runner in a post-zombie-apocalypse world looking for survivors and supplies. As you jog you'll find items to help you out, but occasionally you'll encounter zombies that you'll have to outrun. The app will set a distance for you to cover while increasing your speed a certain amount, detected by your phone's GPS, to survive the zombies.
Joe Kwon's True Ghost Stories
Nothing sets the spirit for Halloween like telling ghost stories in the park, and with this app you'll never find yourself running short of spooky stock. The app, with its dark theme, won't interrupt the night's ambiance with a bright background. Instead, it'll bolster any story circle with ghoulish tales from around the world, updated daily. Have all of your friends heard the standard stories, like "Bloody Mary" or "Apartment 13" already? Why not show them how scaring is done on the other side of the world? You can read them a story about Japanese suicide spirits, or the mysterious dealings of the African Bori.
With the scaring season upon us, it pays to be prepared for this most haunting of holidays with a range of Halloween apps. A good ghost story is all it takes to frighten your friends after trick or treating. How do you incorporate your smartphone into your holiday traditions?
Image courtesy of Wikimedia Commons
[cf]skyword_tracking_tag[/cf]
Comments
comments