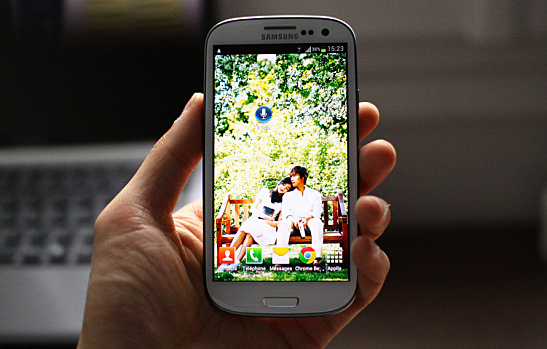 Samsung and Android have made a great team over the past few years. The pairing enabled Samsung to become a major player in the smartphone hardware space, and it helped Google's Android claim the title of the world's most widely used mobile operating system. On the surface, it would appear to be a match made in heaven, but Samsung may be looking for a way out of this wildly successful partnership. 
According to a report by San Jose Mercury News, Samsung wants to replace Android with its own mobile operating system, Tizen. While the Korean manufacturer has sold numerous units, it has failed to convince device owners to use email, music, and other native Samsung apps. By using its own OS software, the company could theoretically reap some of the profits Google is currently enjoying with Android. 
"With only hardware, its influence is limited," said Kang Yeen-kyu, a researcher at the Korea Information Society Development Institute (KISDI). "Samsung's goal is to establish an ecosystem centered on Samsung."
Quick Compare and Contrast with Android
A post on the Laptop Mag blog revealed that, like Android, Tizen is an open source operating system modeled after the Linux kernel. Both systems make their source codes open to the public, which means that anyone with the know-how can go in and tweak them according to their needs. Both systems also have the same design for app and drop-down menus, as well as a notification bar users can access by swiping from the top to the bottom of the screen.
Where Samsung's new software appears to distinguish itself is its screen viewing capabilities. Android currently has a multi-window feature, which allows the user to view two different apps in the same screen. With Tizen, users can split a single app into two windows. For example, a user could play a song in one window and cue up the next track in the other window, alleviating the need to toggle between screens. 
Samsung has big plans for Tizen that extend far beyond mobile devices. The software may be used in a broad range of products made by the consumer electronics giant, including televisions, refrigerators, and wearable devices. At the recent Mobile World Congress in Barcelona, Samsung, along with Intel (who is also backing the project), said the mobile OS will also be compatible with automobiles, possibly starting with vehicles produced by Toyota and Jaguar Land Rover. 
Possible Release Date 
There was talk that Samsung could roll out the Android alternative in its very own device this year, but analysts now believe that earlier next year is more realistic. For now, Samsung is focused on getting developers excited about the project. The company is running a contest in which it will reward $4 million to developers who create the best apps for the new operating system. Contest winners will likely be announced in February 2014, which could correspond with a Tizen device launch. 
Should Samsung take a deep plunge into the software game with its own operating system, or should it stick with what it knows and continue to let Android power the engine?
Image courtesy of Flickr.
[cf]skyword_tracking_tag[/cf]
Comments
comments