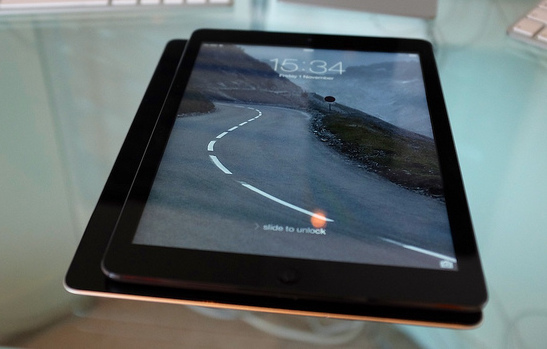 Hoping to get (or give) an iPad this holiday season? Even though we've got two more weeks until Thanksgiving kicks off the holiday shopping season, several big-box retailers are already planning some great iPad Black Friday deals for those willing to brave the crowds that come with the annual event. Though this year's deals mostly consist of gift card incentives, there are some more traditional discounts to be had as well. Here's a rundown of the deals.
Walmart and Target Offer Big Gift Card Incentives
Target has fired the first shot in the Black Friday competition by offering a $100 gift card with the purchase of the iPad Air, according to ZDNet. Target is already selling the iPad Air for a discounted $479 (saving you $20 off Apple's original MSRP).
However, if you don't want to pick up an iPad Air, Target also has a deal on the original iPad Mini. The $299 tablet will come with a $75 gift card. Although the advertisement says this can be applied to any iPad Mini, stock for the just-released iPad Mini with Retina display is expected to be low (Apple CEO Tim Cook said last month that it's "unclear whether we'll have enough" in reference to the new Mini's availability, according to Engadget), and Target may not have any stock for the Black Friday deal to apply to the newest model.  
Walmart is also offering gift card incentives for consumers looking for an iPad this Black Friday. According to CNN, Walmart will offer a special lightning-quick iPad Mini deal for a one-hour period at 6 p.m. on Thanksgiving day. During this time, 16GB iPad Minis (first generation) will sell for the normal retail price of $299, but come with a Walmart $100 gift card.
Discount Deals Still Popular  
In addition to the in-store deal on the iPad Mini, Walmart is also offering an online-only deal on Thanksgiving day that will give consumers an instant $75 discount on the purchase of an iPad 2. 
Best Buy is offering an instant discount of $50 off an iPad Air (which brings the total price to $449.99), according to Techno Buffalo. This deal is good for as long as the stock lasts on Black Friday. Best Buy is also offering $50 off the iPhone 5c, which brings the price down to $49 (with contract). 
If you're looking to score an iPad this holiday, it looks like Black Friday will give you your best shot to get one at the lowest price. While the annual post-Thanksgiving sales can sometimes be a test of endurance, it just might be worth the effort. 
Are you planning to face the crowds this year and take part in one or more of the Black Friday sales this year? If so, which ones?
Image courtesy of Flickr.
[cf]skyword_tracking_tag[/cf]
Comments
comments