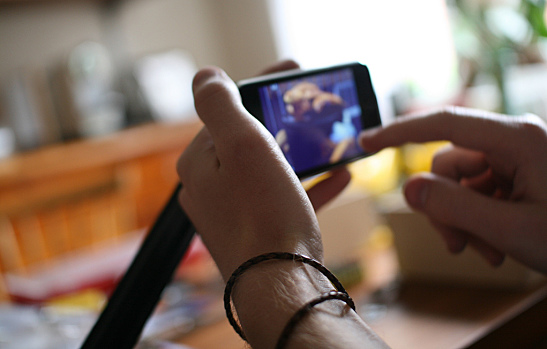 Most smartphone owners have the power to create professionally edited videos using just their phones. You, too, can harness the power of your smartphone's camera using a video-editing app for iOS or Android. The Apple App Store and Google Play Store offer several options for apps, so you have the freedom to choose the one that fits you best.
Splice (iOS)
Path 36's Splice provides you with a multitude of features to make your videos look their best. You can use it to clip and rearrange scenes, add music and sound effects, edit in photos and visual effects, and even add voice-overs to your project.
When editing video clips, you can drag and drop multiple recordings into the same editing project, avoiding the hassle of searching through menus for a video clip you can already see in another folder or on your home screen. Splice accepts multiple audio tracks in the same project, too, so you can make your video come to life with different moods set by soundtrack changes.
Magisto (iOS, Android)
Magisto lets you present your creations to the world of social media. After you use it to tighten and tuck the best parts of your video, the app makes it easy to post it to Facebook, Twitter, or YouTube. Magisto offers camera stabilization, filter effects, scene transitions, and multiple-audio-track support. It even allows you to automatically detect family and friends in video clips with built-in facial recognition capabilities.
SloPro (iOS)
SloPro allows you to shoot video at up to 1,000 frames per second, meaning you can play back your videos in slow motion. This app also provides you with simple editing features, including video splicing and optical flow, frame blending, and ghosting transition effects.
VidTrim Pro (Android)
VidTrim Pro may be the most advanced editor on this list. It has a host of editing features including video trimming, transition effects including black/white and blur, and support for multiple audio tracks. What makes this app special is its ability to transcode the video you create. This means you can take your creation, once trimmed and edited, and convert the whole thing into the popular mp4 video format.
This video-editing app also allows you to resize your videos for smaller containers, such as flash drives, with its video-compression feature. When you are finished, you can even use VidTrim Pro to immediately share your videos on YouTube and other social media outlets.
If you are an aspiring filmmaker, a casual YouTube uploader, or someone who just enjoys the process of video editing, you will find a lot of mobile apps to fuel your passion. When you are done, how will you be sharing your work?
Image courtesy of Flickr
[cf]skyword_tracking_tag[/cf]
Comments
comments