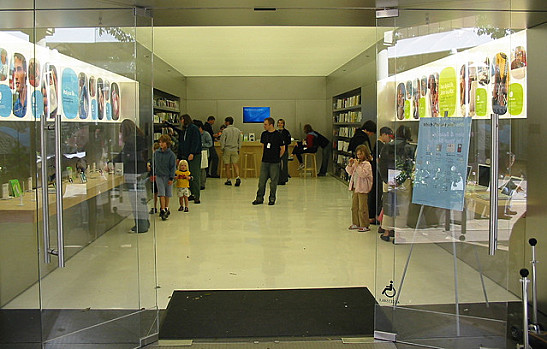 The Apple website confirmed Monday that the tech giant will conduct a Black Friday sale Nov. 29. The website gives sparse details of the event, simply stating, "The one-day Apple shopping event is Friday, November 29," and only informing consumers of the specific shopping times and locations. It may take until Friday for customers to discover what deals are in store for them, but history may provide a prediction.
This Year's Black Friday Event
The fine print on Apple's website says, "Shopping event prices are solely available on November 29, 2013, from 12:01 a.m. PST to 11:59 p.m. PST." It appears the company will not be joining the league of other retailers moving their Black Friday sales into Thanksgiving Day. Thursday sales starting as early as 8 a.m. are becoming the norm rather than the exception in states that allow retailers to open on the holiday.
However, Apple doesn't always follow the well-worn path. The company's website says customers will have access to sales online and in retail locations, but specifies that not all sale products will be available in all retail locations. Gifts can be ordered online and shipped to one's home, or online shoppers can pick up their items at their local brick-and-mortar establishment. The site also mentions that customers can complete their shopping with the Apple Store app on both iPads and iPhones.
What Does History Say?
CNET states that, if history is to be a consumer's guide to this year's discounts and deals, then people can expect price cuts on many types of devices. Apple usually takes off $101 for Macs and between $41 and $61 for iPads.
CNET's predictions are right on track with last year's discounts, as reported by ABC News.  Macs and iPads both sported price cuts, as did the iPod Touch.
Apple offered no discounts for its iPhone last year. The recent release of the iPhone 5c and 5s still have brand devotees coming back for more; perhaps holdouts were waiting to see if the infamous Friday would satisfy their desires for cheaper devices.
Apple also recently unveiled the new iPad Air, a thinner, lighter version of its tablet. It is unlikely that the company will refrain from offering deals on both the iPad and the iPhone, so even if some customers are left disappointed, others will likely be grinning from ear to ear.
With a handful of new products on the market, Apple is competing with every other retailer for consumer attention. Events marketed as simply a Black Friday sale, with no details about pricing or devices, will leave people wanting to know more and may bring more shoppers to online and offline stores.
What items are you hoping to purchase from Apple this year?
Image courtesy of Flickr
[cf]skyword_tracking_tag[/cf]
Comments
comments