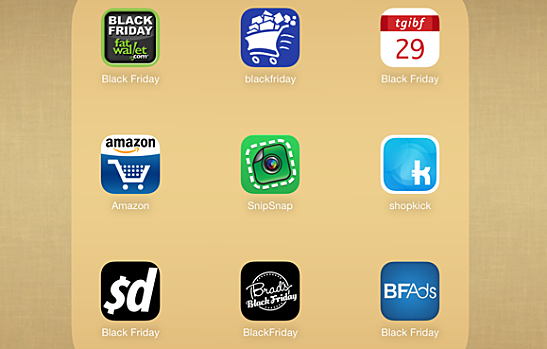 With the busiest shopping day of the year only a few days away, consumers will be getting ready for the madness that comes with each and every Black Friday.  If you want to save some precious time from scouring through newspapers and circulars, look no further than your smartphone or tablet. Here are my 10 best Black Friday Apps that you need now to ensure you find the best deals come this Friday.
Top 10 Best Black Friday Apps
1. For the smartphone newbie: Dealnews Black Friday App
The Dealnews app is probably the easiest and fastest app of the bunch that offers a simple user interface with a search option.  The bottom navigation bar gives you options such as; store, categories, search, deals and saved (deals you star). If your looking for quick deal results on an easy to use app, the Dealnews app is your most likely best bet. Download: iOS, Android
2. For the social shopper: TGI Black Friday
The TGI App for me is one of the best looking apps for Black Friday deals. The polished and easy to use app features deal emailing and social sharing along with downloadable PDF Ad Scans from circulars. The drop down menu on the app provides direct access popular deals, categories, coupons and more. This app also looks stunning on the iPad as it does have an iPad specific version. This is the best Black Friday iPad app of the bunch hands down. Download: iOS, Android
3. For the online shopper: Amazon
The official Amazon app give you complete access to shopping, your wish list, your cart and of curse killer Black Friday deals. If your an Amazon Prime member, this app is an absolute must for you. The Amazon app also offers a built in bar scanner that via the search bar for quick pricing comparisons. Download: iOS, Android
4. For those who like to plan before they leave: Black Friday Deal Finder – FatWallet 
The Black Friday app from Fat Wallet allows you to search, shop, compare and plan all your deals. With actual scans from circulars you get real time ads from over 100 stores. The app also lets you save deals to Wish Lists for quick in-store reference and share deals via email or text message. Download: iOS, Android
5. For the "showroom" shopper: ShopSavvy
ShopSavvy provides one of the best bar code scanners for both Android and iOS devices. If your not sure that the deal you have is an actual steal, just give that bar code a quick scan from the app and instantly get pricing results from across the web. This app for me is a year round tool and not just for Black Friday. Download: iOS, Android
6. For the bargain hunter: Black Friday – Slickdeals 
The popular deals site SlickDeals is once again offering up a great Black Friday specific app for the holidays. this app features scans, deals, coupons and discussion powered by Slickdeals.com. The offline support feature make this app a must for data conscious users as well. Just download the data ahead of time and use it anytime you want. Slickdeals offers push notifications to your device for staying o top of the latest and greatest bargains. Download: iOS, Android
7. For the fashionista: Black Friday – BradDeals
This iOS only app is probably the best out of the bunch if you are looking for clothes and accessory deals this Black Friday. The app also features a news tab that will bring up any Black Friday related news from across the web. With a simple user interface and the ability to save deals, fashionistas should turn to Brad Deals first come this Black Friday. Download: iOS
8. For the shopaholic: BFAds.net – Black Friday
The offical app from BFads.net is the most comprehensive app of the bunhc with just a ton of overwhelming features. The app is for iOS only, so Android fans are out of luck. This app sports more shopping categories than you know what to do with and gives you price filtering options as well. A news tab also offers up the latest deals and Black Friday related news. For the tech savvy users who want all the nuts and bolt of a complex app, BFAds is for you. Download: iOS
9. For the coupon lovers: SniSnap
For all the copuon lovers out there this app is truley a must have. SnipSnap takes a picture of any printed offer, and magically converts all the text, images and barcodes into a mobile-optimized offer, which you can redeem off your screen. Not a coupon fan? Use the discover screen of the app to see what coupons your friends and family have snipped. You can also snip from or follow their featured coupon bundles, and search their massive database of coupons to find one on demand. Download: iOS, Android
10. For the "thrill of the find" shoppers: Shopkick
The Shokick app is the the only app that rewards you for shopping in store. The app uses your current location to offer up some of the best apps in your vicinity and when you make a purchase you get shopkick points ("kicks"). These points can then be used to earn rewards which can be redemmed as gift cards. Think of this app as a shopping based easter egg hunt that rewards you with gift cards for your finds. Download: iOS, Android
Additional Black Friday Tips
Now what you want and which stores you need to hit
Map your drive to save you time
Consumer Electronics deals could be better on Cyber Monday
Pass on it if you're not saving more than 40%
Dress warm and good luck!
[cf]skyword_tracking_tag[/cf]
Comments
comments