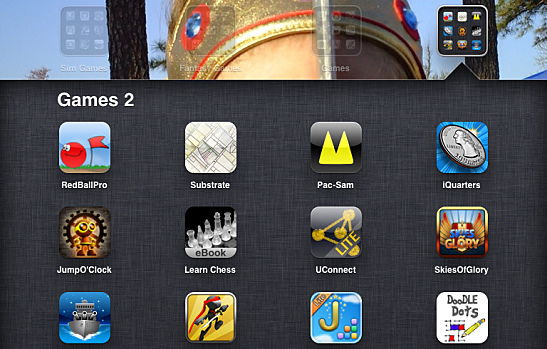 It is easy to learn how to create a folder on your Apple or Android phone with just a few gestures and taps of your finger, or you can download file management apps with more complex folder creation and organization options for your device. Regardless of the method you choose, folders can help clear up the clutter of your dashboard and make it easier and faster to get to your favorite apps.
Organize Your Apps Manually
If you have an Apple iPhone, it will only take you three steps to create a new folder. If you want to pair at least two apps together into new folder, such as a couple of word processing apps, press and hold your finger on top of one of the two app icons. After a couple of seconds, the icons will begin to shake. Drag the icon over the second app's icon.
Your screen will now show you a box with the two apps inside of it—this is your new folder. You can choose to close out the folder or continue to drag in other apps from your home screen. From here, you can also rename the folder by clicking on the displayed title.
If you are using an Android operating system above version 4.0 (Ice Cream Sandwich, Jelly Bean, or KitKat), the process of creating a folder on your home screen is just as simple. First, go to your apps screen by tapping the circle icon at the bottom-center of your Dashboard. Then, tap and hold the icon for any apps you want to drag to your home screen or place in a folder.
Once the apps have shortcuts on your home screen, folders can be created by holding and dragging one app over the other. Release your hold. You will notice a new box containing your two apps. That is your new folder, and you can access or rename that folder at any time by tapping it.
According to Droid Life, Samsung users may have to use a different process to create folders. If you use a Galaxy phone, for instance, you may need to go to File > New Folder on your home screen and then later drag apps into the newly created box.
Similarly, if you use an Android version older than 4.0, you will need to tap and hold a blank space on your home screen and wait for a menu to pop up. On that menu, select the Folders > New Folder option, which will place a folder on your home screen. You can then drag apps into that folder.
Organize Your Apps with Another App
File manager apps can make your life even easier by building folders and organizing your files for you. File Manager App for iOS has the ability to create folders, move documents, and even view PDF and Microsoft Office documents. Similarly, Folder Organizer for Android allows you to create folders and widgets, and can label and organize the contents of each folder you create.
Not only can these techniques free up space on your home screen, they can also make your life and phone more efficient. Instead of making multiple swipes just to get to an app, folders called "Productivity," "Notation," "Design," "Business," or "Just for Fun" could populate your home screen. You will clearly see where you need to go, and if you download a new app you will know exactly where to place it.
Now that you know how to create a folder on your phone, will you use a manual method or download a file management app?
Image courtesy of Flickr
[cf]skyword_tracking_tag[/cf]
Comments
comments