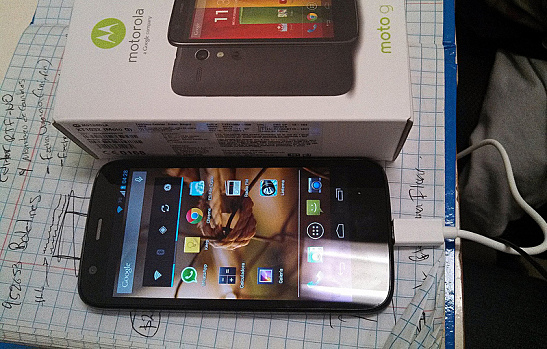 Motorola Mobility released the pre-paid Moto G two months ahead of its scheduled January launch date. Motorola's first flagship phone, the Moto X, was not the heavy-hitter the company hoped it would be, despite a variety of customization options.
The lackluster success of the Moto X didn't dissuade Motorola Mobility CEO Dennis Woodside from the series, however. "It's like launching the Corvette for the first time," Woodside said in an interview with CNET. "It takes a little while for people to know what the Corvette stands for and to decide if it's right for them." 
The Moto G
The Moto G is an unlocked and slightly dialed-down version of the X, selling for less than $179—more affordable than its predecessor. It comes with a power-to-price ratio that is much more attractive to consumers, according to pre-release reviews of the phone. It has a quad-core 1.2 GHz Cortex-A7 processor backed up by a Snapdragon 400 chipset, 3G accessibility, a 5 megapixel camera, and the option for buyers to choose between 8GB and 16GB of internal memory. These specs combined with the signature customization options of the Moto line gave the phone notable success in overseas markets, where it was released earlier.
An Early Release
The G was originally scheduled to be released in early 2014, to coincide with pre-paid phones' tendency to sell best in the early months of the year. High demand in overseas markets prompted Motorola Mobility to push up the release date in the U.S., allowing the company to capitalize on holiday season sales. While it might be nice to believe that this was just a pleasant surprise from the company, products of this scale don't typically launch two months early on a whim. Motorola may have some plans up its sleeve for this smartphone in the future, and with the faith the company is putting in the G it's a smart bet that this won't be the last model of the Moto line that we see.
Whether or not the early release will allow the Moto G to fare better than the Moto X will be known in a few weeks when domestic and international sales numbers are released, but overseas demand and the two month jump-start on the launch date seem to indicate some promise.
Do you think the Moto G has what it takes to be more successful than the Moto X?
Image Courtesy of Flickr
[cf]skyword_tracking_tag[/cf]
Comments
comments