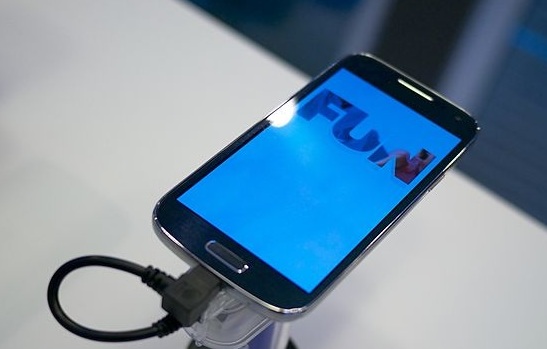 It seems like 2014 is set to be a big year for Samsung smartphones. Recent rumors hint at the possibility that Samsung will announce four or more new smartphones during the first quarter of 2014, and they're all heavy hitters. Granted, these rumors are all drawn from evidence found online, but there is enough information backing them up to make them worth getting excited about.
Not even ten months since the launch of the S4, Samsung may already be releasing the next iteration of the popular smartphone. According to CNET, "some pretty crazy specs for a mysterious new Samsung phone have shown up in benchmark results over at GFXBench," and those specs have led people to believe that it could only belong to a phone designed to be the next in the Galaxy S line. The phone is expected to have a 16 megapixel camera, 3 GB of RAM, a Snapdragon 800 processor at up to 2.5GHz, and run the KitKat version of Andriod. All of this is finished off with a unibody metal design and a 2K HD display.
This is a more speculative listing, but some are predicting there will be a variant of the Note 3 coming soon. The Samsung Galaxy Note 3 Lite will be a cheaper version of the Note 3 that will have an 8 megapixel camera—as opposed to the original's 13—and will have an LED display instead of Super AMOLED. Rumors and research have indicated the Note 3 Lite will most likely debut at the Mobile World Congress in February with a release date following shortly.
Confirmed to be revealed at Mobile Word Congress in February by a Samsung insider, the Galaxy Grand Lite is a bridge between the original Galaxy Grand and the recently announced Galaxy Grand 2 Samsung smartphones. The Grand Lite is scheduled to come out before the Grand 2, and will have a 5-inch WVGA screen, 1 GB of RAM, a 1.2 GHz quad-core processor, a 2,100mAh battery and 8 GB of internal storage alongside a microSD slot. There will also be a 5 megapixel camera on the back and a standard VGA front-facing camera. Though it is made to run on Android 4.2 Jellybean, it will probably be on at least the 4.3 version when it hits the shelves.
Already unveiled but without a determined release date, the Grand 2 has a 5.25 inch screen with a 1,280 x 720 wide-screen display. It's the phone for a multitasker, since the large screen will allow two applications to run simultaneously. This will be powered by a 1.2 GHz quad-core processor and a battery that allows for 17 hours of calls or 10 hours of playback on a full charge. The 8 GB internal memory is also supplemented with a microSD card slot. However, in addition to no announced release date, there is also no announced market. It will be released to specific markets only, but which markets and at what price is anyone's guess.
Samsung smartphones are expected to make a big splash once 2014 hits. There is fairly strong evidence that all of these phones are coming within the following months, but we will be sure to keep readers updated as more news becomes available.
Image Courtesy of Wikimedia Commons
[polldaddy poll="7632232″]
[cf]skyword_tracking_tag[/cf]
Comments
comments