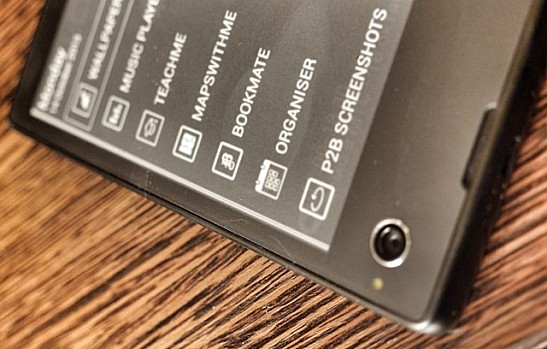 In a surprise move at a press event in Moscow, Yota Devices announced the dual-screen YotaPhone's release earlier this week.
A while back, there was talk about a new Android smartphone in development with two screens instead of one. After a few months with very little news—aside from information about the e-ink screen on the back panel—the phone is hitting shelves in Russia and Europe for €499 (approximately USD $680).
"The limited scope of its launch means that the company behind the phone is missing out on traction in the crucial Asian and American markets," which is sure to stymie initial sales report numbers, TechCrunch speculates. While the Americas will not be getting the phone at its initial launch, this doesn't mean the phone won't hit local shelves in the future.
The Second Screen
While most companies are looking to optimize power and quality within one phone screen, Yota Devices has decided to go in a different direction with an additional screen located on the back panel by the camera. This second screen, unlike the LED and AMOLED screens used in most phones, is an e-ink screen similar to those on the Nook and the Kindle.
Information can be moved from the front to the back screen with a simple two-finger-swipe motion. Users can move reminders, screen shots, and even a few apps that are currently compatible with the e-ink screen. Once Yota Devices releases the APIs, developers will surely be itching to create apps to stretch the limits of what two screens can do.
What's Inside
Since design and production of this phone this phone began over a year ago, it won't come with the most powerful technology on the inside. According to TechCrunch, the YotaPhone comes with a 1.7GHz dual-core Snapdragon S4 chip and 2GB of RAM, a 4.3-inch 720p display on the front, and a 1800mAh battery. While these specs aren't competitive with today's most popular smartphones, they are about equal with the specs of phones released about a year ago, so it isn't exactly a powerless gadget.
This interesting phone will have a lot of experts in the space watching its sales. Right now, it doesn't seem to be important that the phone become an immediate commercial success; the main purpose will be to see what possibilities two screens creates, and how both consumers and app developers will respond.
Do you think two screens on a smartphone will be the next big thing?
Image Courtesy of Flickr
[cf]skyword_tracking_tag[/cf]
Comments
comments