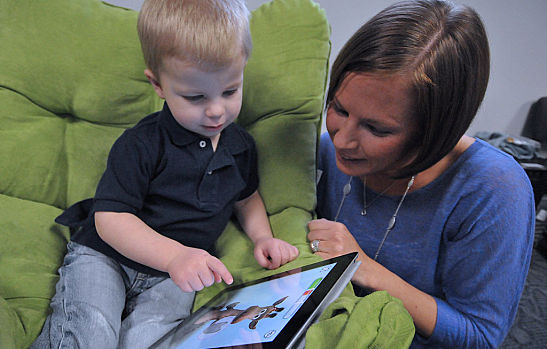 If your child is constantly prying your tablet out of your hands every chance they get, it could be time to get them one of their own – and Gazelle has you covered. Finding a tablet for your child can be a daunting task, so I've laid out the best options for each child.
7. ClickN KIDS 7″ Tablet – "Awww…their first tablet"
(image courtesy of clicknkids)

This affordable tablet is preloaded with Looney Tunes phonics to bring some fun to the learning experience. It also has two modes, so the tablet can be used by adults when needed. It sport features such as WiFi, a camera, music and streaming video players when in "Adult" mode. With 30 pre-installed applications, a $99 price point and a clear 7″ display, this kids tablet is a great deal. Recommended for consumers of all ages. $99 @Walmart
6. Tabeo e2 8″ Tablet  – "Great starter Tablet"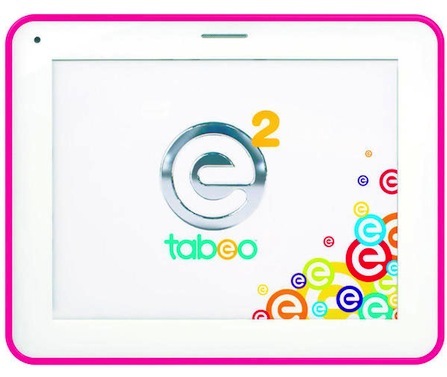 (image courtesy of ToysRus)

The e2 from Tabeo features some great specs and is still relatively affordable. The 8″ multi-touch screen gives you a resolution of 1024 x 768 pixels for a clear display, and the dual-core 1.0 GHz processor and quad-core graphics provide plenty of power for games and apps. This Android powered tablet also has a rear camera, 8GB of storage and comes preloaded with over 30 apps made just for kids. The e2 gives you access the Tabeo App Store that offers thousands of free apps and games. The Tabeo is recommended for children ages 6-11. $129 @Toys "R" Us
5. LeapFrog LeapPad Ultra – "Head of the class"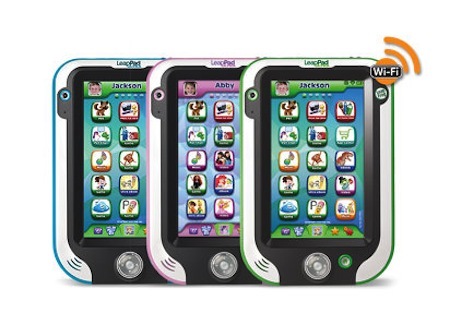 (image courtesy of LeapFrog)
The LeapPad Ultra is probably the best learning tablet. The tablet has rubber-covered bumpers, which protects it from drops and dents. The Ultra has a 7-inch, 1,024 x 600 touchscreen display that works with a stylus to help kids learn to write. The real delight of the Ultra comes with all the educational apps offered by LeapFrog. The LeapPad features access to over 800 apps that help your child learn vocabulary, creative thinking, social skills, reading and writing. Marketed as the number one learning tablet for kids, the Ultra is recommended by 98% of teachers surveyed this year. Ages 4-9 years. $149 @Target

4. Fuhu Nabi 2 Tablet – "Built like a tank"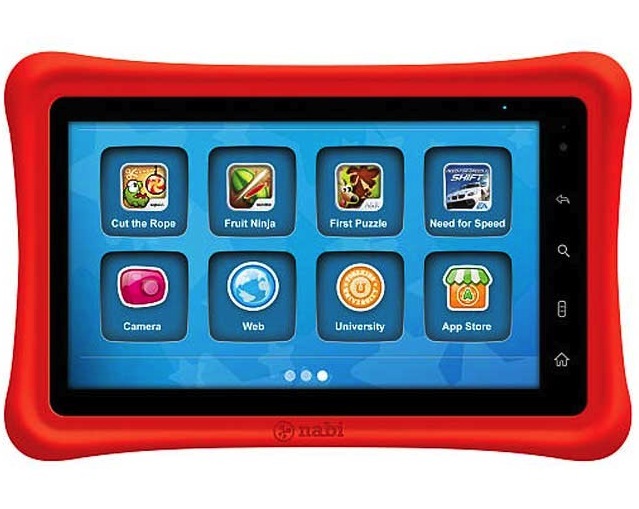 (image courtesy of Fuhu)
If your kid tends to drop (or intentionally throw things), the Nabi 2 is perfect for your family. This durable and  powerful Tegra 3 powered tablet is encased in a durable protective rubber housing. Fuhu claims that the Nabi 2 can survive drops up to 7 feet, although most kids I know are much smaller than that. The Nabi 2 runs Android 4.0 and also features a kid and parent mode like many tablets on this list. While the Google Play store is unavailable on the Nabi 2, the Amazon app store provides 50,000 apps to choose from. There are also 500 kid-friendly apps available in the Nabi App Zone. The Nabi 2 is recommended for kids 4 and up and is probably set between the Leapfrog and the iPad/Kindle Fire HD in terms of kid friendliness. Ages 2 and up. $179 @RadioShack
3. Samsung Galaxy Tab 3 Kids Edition – "I'll use that when you're done!"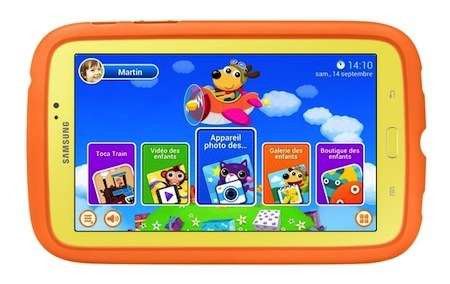 (image courtesy of Samsung)
All the robust power and Android goodness that comes with the Galaxy lineup of tablets is now baked into a kid friendly version of the Galaxy Tab. This bright yellow tablet features an even brighter orange bumper case to keep the tablet safe from dents and dings. The Galaxy Tab 3 Kids features a kid-centric interface with bright colors and animated characters to make it easier and more appealing to kids. It also features Samsung's Kids' Store that is filled with top apps for learning and playing. Parental controls are also on board that let you set time restrictions on their usage, control what they view, and choose which apps you want to purchase. The interface can also be switched back to normal mode for when you want to steal it back after junior falls asleep. Ages 4 and up. $199 @Amazon

2. Apple iPad Mini – "They'll grow into it"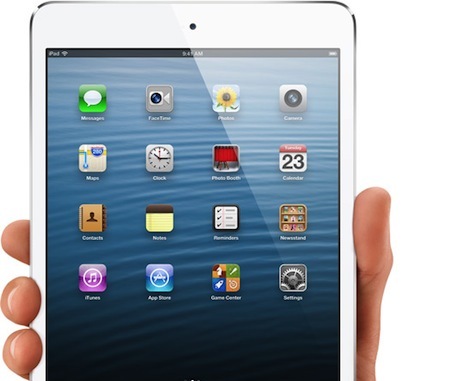 (image courtesy of Apple)
With the recent release of the second generation iPad Mini (retina display), last years mini has dropped to $299. Although on the high end for a kids tablet, Apple still offers the best selection of apps, games and content out of the bunch. With iTunes U you get FREE access to over 600,000 resources on a variety of learning topics. The iPad mini also has a 5-megapixel rear camera for kids to take pictures with, and a 1.2-megapixel front camera for video calling and FaceTime. You can also set restrictions on certain apps by turning on parental controls which is located in the general settings menu. The smaller size and price tag of the Mini compared to the full size iPad is ideal for kids hands and easier on your wallet. Overall the iPad mini is the tablet that they will never outgrow. All ages. @Gazelle. 

1. Amazon Kindle Fire HD – "The complete package"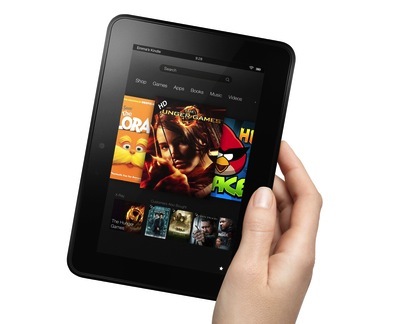 (image courtesy of Amazon)
Not only is the Kindle Fire HD from Amazon one of the most popular tablets in the world, it is also one of the best tablets for kids out there. The 2013 edition of the Fire HD sports a very quick 1.5GHz dual-core processor that can handle apps, movies and games with no problem at all. Besides the affordable $139 price tag, the best part of the Fire HD is Kindle Fire FreeTime. FreeTime allows parents to create a profile for each of their children and choose what books, apps, games, and videos they want to give their kids access to. Also on board is Kindle FreeTime Unlimited ($2.99 per month) which gives you access to kid-friendly books, games, educational apps, movies and TV shows. Did I mention that Kindle FreeTime can also set time limits for usage? Well it can! Parents can set daily limits for tablet use, or restrict certain categories like games and movies. Overall the Kindle Fire HD represents the best tablet you can buy for kids of all ages. $139 @Amazon

image – wikimedia commons
[cf]skyword_tracking_tag[/cf]
Comments
comments