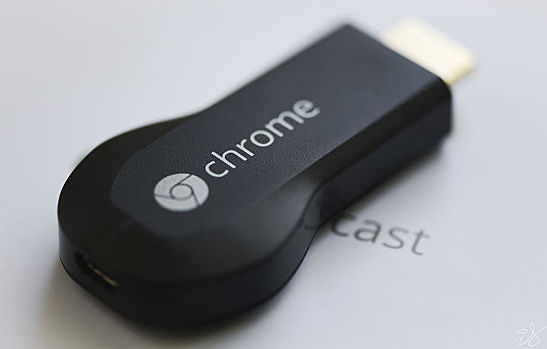 Code in the Android 4.4.1 update suggests that the next iteration of the software may support full Chromecast mirroring from mobile devices, according to Engadget. Currently, the Chromecast peripheral allows for mirroring from desktop browsers, but only supports mobile mirroring from select smartphone and tablet apps. However, if these reports prove true, users will be able to broadcast their browser activity from their smartphone or tablet directly to the Chromecast device. 
Bringing Chromecast Up to Speed with Apple TV
Though the Chromecast has been lauded for its many apps and low price, comparisons to the higher-priced Apple TV have been prevalent since its release. Though Chromecast and Apple TV share plenty of features, including support for purchased content playback and apps for streaming services like Netflix and Hulu, Apple's support for desktop mirroring as well as mobile mirroring has always given it a slight advantage over Chromecast. 
With the addition of mobile mirroring from Android devices, Chromecast could stand a legitimate chance of taking over Apple TV's market share and galvanizing Android owners who have been on the fence about purchasing one of these devices.
No Third Party Support
Unfortunately, even though the idea of Chromecast mirroring is certainly exciting, Cyanogen Co-Founder Koushik Dutta recently told Tech Radar that the code for the new feature isn't exactly perfect. "Unfortunately that API is not available to anyone but Google and the OEM. Similar solutions to different hardware can't be built," Dutta said. 
Since the screen-streaming feature will only support native content, like the Chrome browser, on Android devices, the Chromecast may still technically be behind other devices. However, this native mirroring is a good first step for Chromecast, and may point to bigger features on the way for the little device in the coming years. 
Of course it is important to remember that Chromecast mirroring has not been officially confirmed for the next iteration of the Android operating system, and the found code may not actually be a part of the next release. If these rumors do indeed prove true, it will certainly be a boon to the Chromecast streaming device, which has enjoyed both critical praise and commercial success in the few short months since its launch. Though this purported feature may not be perfect, it certainly helps bring Chromecast up to speed with its more expensive rivals, making its $35 price tag that much more attractive for Android mobile device owners. 
Is Chromecast mirroring a big enough feature to entice you to buy a device? 
Image courtesy of Wikimedia Commons
[cf]skyword_tracking_tag[/cf]
Comments
comments