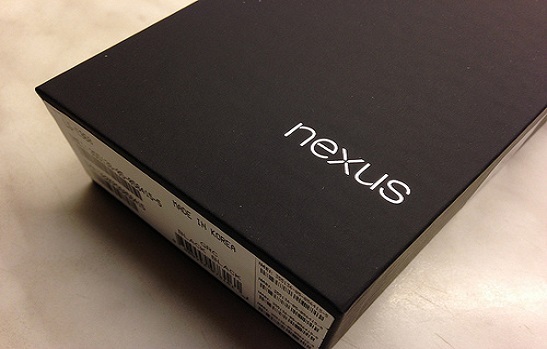 Google and LG made impressive waves in the mobile device industry when the two companies paired up to deliver the Nexus 5 smartphone. The two powerhouses could be teaming up yet again to produce another mobile hit, this time in the tablet market.
A tweet from the Twitter account "@evleaks" brought attention to a mysterious gadget bearing the model number "LG V510," Android Guys reports. The details are sparse, but the device is expected to be the Nexus 8.
Speculated Specs
Earlier this month, Geeky-Gadgets highlighted a service manual for a never-before-seen LG tablet running Android. The manual, which at the time was speculated to be for either the Nexus 8 or an LG G Pad 8.3 variant, was accompanied by text describing the exact same specifications as those associated with the most recent Twitter leak.
The specifications are reported to be: 
Screen: 8.3-inch LCD display, full HD IPS 1920 x 1200p resolution
Performance: 1.7GHz quad-core Snapdragon 600 processor, 2 GB of RAM
Camera: 5-megapixel rear-facing camera, 1.3-megapixel front-facing camera
Power: 4600 mAh battery
Storage: 16 GB of internal storage, built-in micro SD slot supports up to a total of 64 GB
One of the most interesting categories to note is the operating system (OS) that could be installed on the hardware. The G Pad 8.3 is currently running Android OS 4.2.2, a.k.a. Jelly Bean. More than likely, the Nexus 8 tablet would launch running the new KitKat, Android version 4.4. The KitKat software was recently rolled out to a number of Android devices, including LG's Nexus 5, according to Gotta Be Mobile.
KitKat may have been instrumental in kick-starting the Nexus 8 speculation. Rumors started to brew when sites like SoftPedia brought attention to a KitKat promo showing the then-upcoming Android software displayed on an unknown, yet somewhat familiar LG tablet. At the time, the device was suspected to be an LTE version of the aforementioned LG G Pad 8.3.
A Steady Tablet Hardware Partnership Born?
So far, the LG G Pad 8.3 has been well received in the mid- to high-end tablet market. A big part of its appeal is a strategic design that accentuates the software under the hood. "From its light weight to its sleek design, LG G Pad 8.3 is the ultimate complement to the Android smartphone experience," James Fishler, Senior Vice President of Marketing at LG, was quoted as saying in a Tom's Hardware article.
What features are you hoping the Nexus 8 will have?
Image courtesy of Flickr
[cf]skyword_tracking_tag[/cf]
Comments
comments