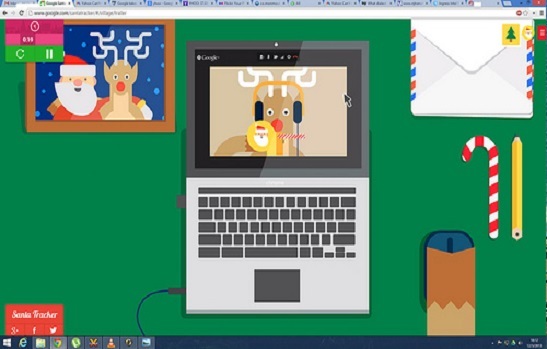 It is pretty well known what good old St. Nick does between Christmas Eve and Christmas morning—he's directing that reindeer-powered sleigh around the world and delivering gifts to those who've been nice. What's it like? Where exactly does he go? Google has the scoop, and they're willing to share an inside peek at the adventure.
It's that time of year again for Google's Santa Tracker, Android Guys reports. The search engine giant has updated its holiday tradition by adding a few new ways to keep track of the epic journey. In addition to rolling out its annual tracking site, Google announced plans to launch an Android app for keeping tabs on the big guy. The app will give users the ability to follow Santa amid his most important mission of the year, and even learn more about his stops along the way. Included in the package are games, location updates, and the ability to send messages to friends and family.
The new app, which is expected be available any day now, promises to make Santa easier to monitor than ever. With full support for Google's Chromecast digital media player, users can stream the app content onto a bigger screen and truly immerse themselves in the experience. 
The engaging aspects of Google's Santa Tracker app promise to mesh nicely in the big screen environment Chromecast offers. For example, there are hands-on activities with Santa's helpers, a reindeer racing game, and interactive videos that can be controlled directly from the connected device. Google will reportedly add even more activities and content as Christmas Eve approaches.
For now, users who want to know how much longer before Kris Kringle departs can visit Google's official Santa Tracker website. Even without the app, there is plenty of fun and interactive content to keep kids occupied right from the website.
The digital holiday event will culminate on Christmas Eve, when Google is scheduled to display a preview of the legendary mission through Santa's very own dashboard. This part of the initiative is powered by Google Maps, which will help guide his journey around the world. 
The Competitive "Search" for St. Nick
NORAD is once again working with Microsoft on its own Santa tracking initiative, NORAD Tracks Santa. While this service is similar to Google's offering, allowing users to track the holiday expedition from the web and mobile apps, the firm claims its motives are not competition-driven. "We only worry about providing the very best experience for our Santa trackers," said Stacey Knott, Deputy Chief of Strategic Outreach at NORAD, told ABC News.
The countdown is on. Which search provider will Mrs. Claus side with to keep up with Santa? 
Image courtesy of Flickr
[cf]skyword_tracking_tag[/cf]
Comments
comments